The Karl Schappeller Device
CHAPTER FOUR
German Field Propulsion Projects
This type of flying vehicle would lift and move itself powered by an electric, magnetic, diamagnetic or ether field which repelsearth's magnetic field or overpowers the effects of gravity.
The Viktor Schauberger Models
An Austrian, Viktor Schauberger was first and foremost a naturalist. His primary focus was water as found in naturally occurring streams, rivers and lakes. In observing the movement of water he formulated his own ideas about its movement and energetic properties. They are applicable in air also. His ideas are guite contrary to accepted ideas, both then and now and are even now imperfectly understood and debated. These ideas involved the vortex which was the way Schauberger believed that water naturally flowed both in the earth and in streams. Schauberger believed that energy naturally flowed in a vortex but that this movement was only visible through another medium such as water or air. This discussion will first focus on theories of why and how the Schauberger saucer model flew and then recount the sequence of events in Schauberger's involvement with flying discs.
Viktor Schauberger's saucer models incorporated a vortex in which air entered at the top and flowed right through the center of the saucer. Schauberger's vortex was an open system. A whirlpool ortornado or hurricane are examples of the kind of vortex upon which Schauberger's ideas are based. There are two directions of vortex movement, centripetal or inward moving vortex and centrifugal or outward moving vortex. Centripetally moving, that is inwardly moving spiraling air or water, takes up less spaceand is cooled by this motion according to Schauberger (1). The example we see in daily life is the motion of water in a toilet after flushing. He called this centripetal movement "implosion". Implosion was always accompanied by explosion as the fluid expanded again in an outward, centrifugal spiral. The process is first centripetal then centrifugal. The form this vortex took is really dictated by function according to Schauberger. The "function" is the energy flow. The spiral vortex is the shape the energy flow takes in its movement (2). Energy flows in at the top of the vortex in the characteristic double-spiral manner. These air molecules are imploded, that is, they are made more dense and they yield heat as they progress (3). Air molecules are squeezed tighter and tighter together as they move down the vortex until the sub-atomic particles themselves become ungluedtransforming into new and unrecognized forms of energy (4). Asthe vortex itself decreases in diameter implosion and speed are
121
Viktor Schauberger's Saucer Models
Top: Schauberger models. Bottom: Sectional diagram. The zig-zag is the air passage. The passage is a hollow space between two plates. As the saucer spins on its axis, the air enters and moves away from the center toward the rim following the up and down flow of the zig-zag. The spin causes individual tornado-like vortices to form as the spin causes the air flow to fold over on itself as it moves outward. Vortices become smaller in diameter and more "densified" until they reach the rim where they are released into the atmosphere, rapidly expand, and yield energy. Model is multi-section, copper. Courtesy Klaus-Peter Rothkugel
122
increased until they reach the point within the vortex where centripetal forces stop and centrifugal forces take over.
Energy is radiated out from the center of the vortex (5). The Schauberger vortex may be visualized as a figure "8" according to Dr. Gordon Freeman, with the energy radiating out at the narrow mid-point between the upper and lower loops (6). This energy is produces levitation. It may be diamagnetic energy as Schauberger believed (7).
Viktor Schauberger first built new designs for flumes to transport logs. He then built water purification machines usingthe principle of the vortex. He then built electric generators, heaters and coolers using only air as fuel. The breakthrough using machines was Schauberger's claim to have found a way to make his vortex machines auto-rotate at rotational speeds between 10,000 and 20,000 revolutions per minute (8).
In some Schauberger machines, a small high-speed electric engine would spin the air around an axis using a paddle-like propeller. The motor would continue accelerating the rotating air until itreached the critical speed of auto-rotation. At this point, theprocess was self-sustaining with air being drawn in and expelled with no additional input of energy (9). Air could be drawn in on a continuous basis since it was being cooled and thus made more dense in the vortex spiral. Greater density is loss of volume. Loss of volume created lower pressure at the air inlet with drew in more and more air as the reaction continued. Greater air speed at the point of ejection also served to lower the pressure as explained in Bernouli's Law (the same process which makes anairplane wing lift the aircraft), thus helping to lowering pressure at the inlet.
So to review: air is drawn in one end of the machine by an electric-powered, paddle-like fan or by spinning the entire machine as was the case with the saucer model. Air is then spiraled into a vortex of special proportion and shape designed by Schauberger. The air is made more dense yet cooled as it funnels down to its smallest diameter. At this point, just before expansive forces take over, energy is liberated perhaps due to the un-gluing of sub-atomic forces which frees energy in some manner currently imperfectly understood. The air begins to expand in a centrifugal motion as it warms. It is at this midway point that the air exits the saucer model at its periphery or lip of the saucer to expand centrifugally in the open atmosphere. Once a speed of 10,000 to 20,000 revolutions per minute is attained, the machine auto-rotates without need of the small electric-powered starter motor.
The exact proportions for the Schauberger pipes are designed geometrically. This geometry is of a rather esoteric nature. For instance, the bend of the spiral pipe is calculated using the Golden Section. For some time a true engineering genius, Dr. Gordon Freeman, has been writing to some interested parties and
123 Esoteric Ideas
Top Left : The Hyperbolic Open System. The movement could be centripetal or centrifugal. Top Right: Law of Natural Tones resulting from the hyperbolic spiral. Bottom: The egg-shape, built according to the non-Euclidian Law of Natural Tones, correct some of the planetary motion laws of Kepler according to Schauberger.
124
explaining how certain shapes or wave patterns can impact conventional physics. He believes one needs to understand known science as well as a more esoteric doctrine in order to appreciate the nature of free-energy and some types of fieldpropulsion UFO craft. The work of Viktor Schauberger is an example of this. In this work there remains a world of knowledge imperfectly understood by most of us.
Returning to the mechanism by which these models flew, Schauberger himself always made the point of the fact that his saucer models were constructed of diamagnetic materials. Diamagnetic materials are those which are repel a magnetic field. Schauberger considered copper diamagnetic (10) and the surfaces of the saucer models coming in contact with air were made of copper.
As mentioned above, the very atomic structure of these atoms may have altered by this process. Coats tells us that electrons, protons and neutron may have been separated from one another (11). It has been suggested that the electrons and protons of these atoms were stripped from their nuclei. Their opposing charges were free and attracted one another resulting in their mutual annihilation of one another yielding a release of energy (12). This would occur exactly at the point where centripetal forces ceased and centrifugal forces began, these air particles reversed their spin and altered their rotation.
Further, Coats explains that the neutrons, which were left overin the process described above, and contrary to accepted views,are themselves magnetic (13). These neutrons were expelled from the saucer centrifugally along with water, water vapor and airwhich had not reacted as stated above. These "magnetic" neutrons, on the outside of the saucer body may serve to increase the diamagnetic reaction of the copper saucer which would be both pushing away from the earth and the cloud of surrounding "magnetically charged" neutrons. In other words, the Schauberger disc may have been repelling away from the magnetically chargedatmosphere which it itself had just created.
Dr. Richard LeFors Clark proposes a more detailed description of similar ideas involving the mechanism of the Bloch Wall (14). This will be discussed in the section involving Karl Schappeller but it should be kept in mind while reading these ideas that Dr. Clark had Schauberger in mind. These ideas and others pertaining to both Schauberger and Karl Schappeller will be presented in the Schappeller section to follow.
The history of the Schauberger flying disc models is as follows. According to Alexandersson, Aloys Kokaly, a German, began work for Viktor Schauberger in the early days of the Second World War producing certain parts for a "flying object" which were hard to obtain in Austria. The parts were to be delivered to the Kertl Works in Vienna which was the site of this work at the time. The Kertl Works were operating "on higher authority" in association
125
with Schauberger. Kokaly was received at Kertl by its chief and told by this individual, somewhat bitterly, that one of these strange contraptions had already flown. As a matter of fact it had gone right through the roof of the Kertl plant (15). The year was 1940.
Coats tells us that the purpose of this device was twofold. First, it was to investigate free energy production. This could be done by running a shaft to the rapidly rotating wheel-like component which was auto-rotating at between 10,000 and 20,000rpm. Using reduction gearing, some of that energy could be mechanically coupled to an electric generator producing electricity at no cost. The second purpose of these experiments was to test Schauberger's theories on levitation and flight (16).
Two prototypes were said to have been built at Kertl. The test flight was done without Schauberger's presence or even his permission to do the test. The model flew as described above but it did considerable destruction to the Kertl Works so there were mixed feels concerning the success of this flight. The force of levitation was so strong that it sheared six 1/4 inch diameter high-tensile steel anchor bolts on its way to the roof. Coats reports that according to Schauberger's calculations based upon previous tests, a 20 centimeter diameter device of this sort, with a rotational velocity of 20,000 rpm, would have lifted a weight of 228 tons (17).
A few years earlier in 1934 Schauberger had met with Hitler todiscuss alternative energy ideas (18). Nothing come of this meeting immediately but after Germany annexed Austria in 1938, Schauberger became involved in research at Professor Kotschau's laboratory in Nuremberg. Assisted by his son, Walter, who had just completed engineering studies at a technical college in Dresden, Viktor Schauberger went to work with a Dr. Winter on a plan to extract electrical energy directly form a water flow. Some success was achieved. Alexandersson reports that a potential of 50,000 volts was achieved but that no practical results came from this at that time (19).
Probably based upon the fact that Viktor Schauberger was a veteran of the Great War, he was inducted into the Waffen-SS in 1943. This put him under the direct control of SS chief Heinrich Himmler. Schauberger was ordered to castle Schoenbrunn near the Mauthausen concentration camp in Austria. There he was to select gualified prisoners, twenty to thirty craftsmen, technicians and engineers, and begin work on a new, secret weapon. Schaubergerarranged improved conditions for his team and produced another flying saucer model (20).
In May, 1945, because of the deteriorating circumstances of the war, Schauberger was re-located to Leonstein in Upper Austria by the SS. There, just after a successful test flight of his latest device, it was seized by an American intelligence unit whichappeared to be well informed about it. Schauberger was de
126
briefed by American intelligence, according to Coats, detained, and told not to participate in further research (21).
Coats was actually able to locate a surviving example of a Schauberger saucer model. Excellent photographs of this device are to be found in his book, Living Energies, as well as a dissection of it into its various components. It is unclear if this device was one of the earlier (1940) or later (1945) projects.
After the war, Schauberger worked on agricultural projects in Austria until one day in the late 1957 when he was contacted by two Americans. They promised Viktor almost unlimited resources if he and his son Walter would work for them in the United States (22). Discussion concerning the exact source and motives for this offer are beyond the scope of this discussion but suffice it to say that they were powerful interests. The Schaubergers were sent to Texas, near the Red River, where Viktor was asked to disclose everything he knew and Walter was asked to set Viktor's terminology into the standard language of physics and engineering. This whole episode proved extremely unsatisfactory for both Schaubergers and they returned to Austria after about three months. As a condition for their return, Viktor was asked to sign away his knowledge to this powerful concern. Viktor was given a contract in English, which he did not read. Nevertheless, the deal was done and the Schaubergers returned to Austria (23). Viktor, already in poor health, died five days later on September 25, 1958. Walter continued advancing his father's research in Austria until his death in 1997.
Coats provides us with pictures of one of the Schauberger saucers in question and an explanation of its workings (24). This saucer was composed of a number of copper plates bolted together. Air was drawn in at the to and into the rapidly spinning saucer which was set into motion by an electric motor. In this machine no paddles pushed upon the air to start it. Instead, a motor was used to spin the whole saucer model to the desired number of revolutions per minute. The air was thus spun rapid over channels formed by the upper and lower surfaces of two copper plates. On these plates alternate ridges and depressions on both plates kept the air moving in snake-like wave forms and it moved toward the periphery of the saucer. Because the saucer wasspinning, the air was folded over upon itself as it rapidly moved laterally into many individual vortices. The air was rotating in these vortices and moving up and down between the ridged plates. It was also moving around as the saucer spun on its axis. This is a double-spiral motion which additionally duplicates the undulating motion seen on the Schauberger log flumes. The air was cooled and made more dense as it progressed towards the periphery. At and around the saucer the periphery, it was ejected into the atmosphere at great speed.
In this machine, centripetal air flow changes to centrifugal air flow at this periphery. The air, once outside the saucer,
127
spirals away in a centrifugal motion. It is at this periphery, at the midline of the saucer, where the change of motion takesplace. It is here that energy is liberated. It is this energy which gives the saucer its quality of levitation.
Sometimes the Coanda Effect is cited as a reason this saucer flew (25). Coanda effects, if present at all, are only a secondary force if Viktor Schauberger's calculations are correct. Coanda effects alone could never be powerful enough to generate the lifting force equal to 228 tons which Schauberger estimated his small model produced.
The important factual points to keep in mind are these: First, this saucer-model, probably in more than one version, actually flew. Second, one model still exists today. Therefore this "flying saucer" is a physical reality which can be photographed, touched and studied. Third, explanations of the mysterious energetic forces causing lift in this device should not be forgotten. The German scientific leadership was interested in implosion and in what Schauberger had to teach them but they did not necessarily want to be limited by the use of air to achieve these results. Instead, they may have wanted to use Schauberger ideas but actuating these principles with electronic components. We will see some ideas relating to Schauberger in a future example.
The Viktor Schauberger Models
Sources and References
Coats, Callum, 1996, page 276, Living Energies, Gateway Books, Bath, U.K.

Coats, Callum, 1996, page 46

Coats, Callum, 1996, page 276

Coats, Callum, 1996, page 290

Freeman, Gordon PhD., 1999, personal correspondence

ibid

Coats, Callum, 1996, 290

Coats, Callum, 1996, 287

ibid

Coats, Callum, 1996, page 292

Coats, Callum, 1996, pages 290-292
128
Coats, Callum, 1996, page 292

ibid

Clark, Richard LeFors PhD., 1987, "The Earth Grid, Human Levitation And Gravity Anomalies" in Anti-Gravity And The World Grid, edited by David Hatcher Childress, Adventures Unlimited Press, Stelle, Illinois

Alexandersson, Olaf, 1990, page 87, Living Water. Gateway Books, The Hollies, Wellow Bath, U.K.

Coats, Callum, 1996, page 287

ibid

Kadmon, date unknown, pages 10, 23, Ahnstern 1, "Viktor Schauberger", Aorta c/o Petak, Postfach 788, A-1011, Wien, Austria

Alexandersson, Olaf, 1990, pages 89-91

Coats, Callum, 1996, page 11

ibid

Coats, Callum, 1996, page 15

Coats, Callum, 1996, page 27

Coats, Callum, 1996, pages 287-293

Reba, Imants, 1966, page 86, "Applications Of The Coanda Effect", Scientific American
129
The KM-2 Rocket
A shred of evidence comes down to us though the years in the form of a newspaper article by Lionel Shapiro in the Denver Post, dated November 9, 1947, and titled "Spies Bid for Franco's Weapons". (Please refer to a copy of that article). It should be noted that this was a few months after the summer of 1947, the first and largest UFO flap in history, which included the Kenneth Arnold sighting and the flying saucer activity of Roswell. It should also be noted that the Denver Post was nor is not a tabloid publication.
In doing research, this newspaper was contacted in an attempt to learn the whereabouts of the author, Lionel Shapiro. Unlike so many newspapers in the United States which have been purchased and merged by conglomerates, this newspaper is still intact and in existence. Unfortunately, no record could be found of Mr. Shapiro in their personnel files although they did maintain files going back that far. Also, no record could be found in their sister publication, The Rocky Mountain News. It was suggested that Mr. Shapiro was "a stringer", that is, a writer who did not work directly for the newspaper and whose work was purchased on a piece by piece basis. His work seems to have been channeled through the North American Newspaper Alliance. More of Mr. Shapiro's history and connections will unfold as the tale progresses.
This article describes two devices. The first is an "electromagnetic rocket", sometimes referred to later as the "KM- 2 rocket" in other literature. The second is a nuclear warhead small enough to be fired by an artillery piece. The nuclear, warhead which is affixed to a cannon projectile, is novel at this time and is interesting since such devices were built and fired shortly thereafter by the United States military. The article's description of the nuclear cannon is correct. This was a German invention and was under development in Germany during the latter stages of the war. A prototype was even built and it carried the German designation of DKM 44 (1). This very cannon was copied by the Americans and became the T-131 which fired a nuclear warhead (2).
The discussion of the nuclear cannon is really beyond the scope of this book but what is important to bear in mind concerning this discussion is that if fifty percent of this article has proven to be accurate. The nuclear cannon was built and it stemmed from a German prototype. Does this not at least raise the possibility that the other fifty percent is accurate also?
Returning to the electromagnetic rocket itself, this device isright on point for the discussion of field propulsion. Some points are ascertained in reading this article. Its descriptionas a "rocket" would lead one to believe it was cylindrical in shape rather than saucer-shaped. It is suggested that this
130
The KM-2 Rocket
Post-War German science for Generalissimo Francisco Franco. This is from the Denver Post, November 9, 1947, four months after flying saucers were seen all over the USA.
131
device was responsible for the flying saucer sightings over the USA that previous summer. This speaks for its operational range. It was said to have been tested off Malaga while Franco watched. The device was constructed in the town of Marbella, east ofGibraltar. Finally, it was said to have been of German origin,even naming the German scientists who built it.
Even Spain itself is of some interest here since this country's ruler, Generalissimo Francisco Franco, was openly sympathetic to the Nazis. The Nazis had assisted Franco militarily in the Spanish Civil War during the 1930s and were instrumental in his retention of power. During the final stages of the Second World War and afterward Spain was seen, by the Germans as a safe haven for all those things they wished to keep out of Allied hands, including secret weapons. Many shipments of gold, secret blueprints, specialty steel, machine tools, scientists and high ranking Nazis were sent to Spain (3). Colonel Otto Skorzeny, head of several SS post-war, self-help organizations even set up his headquarters in Madrid (4). Spain served as a home-away- from-home for the SS after the war.
In analyzing the means by which the KM-2 device flew, it must be noted that gravitational force can be overcome through the use of a strong electrostatic charge as shown by the work of T. Townsend Brown beginning in the 1920s. This is sometimes referred to as the Biefield-Brown Effect. Imagine a torpedo-shaped model with a dielectric center section suspended by a string from the ceiling. If this model were charged with high voltage, one end would become positive and the other end would become negative. Movement would occur toward the positively charged direction if the voltage was sufficient and the charged ends remained separated by the dielectric (5).
This dielectric is an insulating material which can keep positive and negative charges from interacting with each other and so canceling each other out. They are commonly used in capacitors or condensers which have a positive charge on one side while retaining a negative charge on the other. If the charge can be contained by the non-conducting dielectric, a force is exerted in the direction of the positive side with the application of 75,000 to 300,000 volts. One way to conceive of this action is to imagine a gravity hill whose slope increases with the intensity of the ion charge. The craft being powered simply slides down the gravity gradient like a surfboard on a wave (6).
This concept is a new, non-conventional form of flight. It is non-aerodynamic method of flight. All previous conventional flight had either been through the use of lighter than air balloons, winged craft powered by propellers, jets or rockets or the brute force of rockets themselves. Using this method, Brown advocated defeating gravity by generating another form of energy over which gravity could be surfed. It is a form of field propulsion.
Electric Charge And Propulsion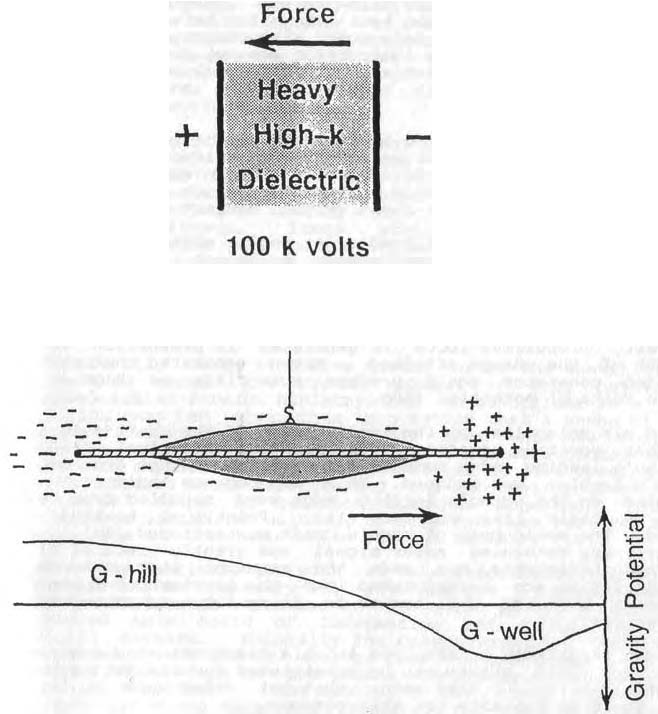 T.T. Brown found that when strong electric charges are separated by a dielectric, movement occurs towards the positive charge as if gravity were reduced on the positive side or as if the charged object were sliding down a hill.
133
T. Townsend Brown demonstrated this means of propulsion to the American military during the 1950s. He used a saucer-shaped model tethered only by a high voltage line supplying the charge to the model (7). During that decade Brown built increasinglylarger, faster models using this method. Brown found that a saucer or a triangle was the best shape for this type of flying craft. A secret proposal, code-named Winterhaven, was to develop a Mach 3 antigravity saucer interceptor was put forth to the U.S. Air Force (8). This project was further developed through the1960s but after this all traces of this concept seem to disappear.
But where Brown is overlooked is not only did he have a method of electrostatic propulsion but he also had a self-contained method to impart this charge to a flying craft. He invented a flame-jet generator or electrokenetic generator which supplied thenecessary high voltage in a light weight, compact manner (9).
The flame-jet generator utilized a jet engine with an electrified needle mounted in the exhaust nozzle to inject negative ions in the jet's exhaust stream. A corresponding but positive charge is automatically built up upon the leading front edge of the craft. As long as there is no leakage through the dielectric or insulating material, in this case through the wings and body of the craft, propulsive force is generated in proportion to thestrength of the charge attained. Brown estimated that such a flame-jet generator could produce potentials as high as 15 million volts of potential (10).
Ionized air molecules on the leading edge of the craft's surface had other positive benefits. The positive electrical field on the wing's leading edge reduced air friction so that drag caused by air molecules was reduced. This was because individual air molecules on the wing's leading edge were repelled from each other by their like charges (11). Frictional heating was reduced. The sonic boom of such a craft was softened (12). And finally, any returning radar signal was greatly reduced (13). Dr. Paul LaViolette has made the argument that all these characteristics are incorporated into the American B-2 bomber, concluding that the B-2 bomber is in reality an anti-gravity aircraft (14).
As Brown repeatedly points out in his Electrokinetic Generator patent, any fluid stream can be substituted for the jet engine's fuel and air (15). This means that hot water vapor or steam itself would be suitable for this purpose.
If T. Townsend Brown had been working on this form of flight since the 1920s, is it not conceivable that others were also? Remember that the KM-2 device is described as an "electromagnetic rocket". If a combination design is considered, one which combines the electrokinetic apparatus with the electrokinetic generator, a picture emerges which would seem to fulfill thedescription given to the KM-2 "electromagnetic rocket".
134
The real question may be if the flow of this knowledge went from Brown to the Germans or from the Germans to Brown as was the case with so much high technology in the post-war years. T. T.Brown's early collaborator and mentor was a Dr. Paul Biefield a Professor of Physics and Astronomy at Dennison University. Dr. Biefield was a German speaker who was a fellow student of Albert Einstein in Switzerland. Physicists share information across international boundaries. There is no reason for German scientists not to have followed developments in this Biefield-Brown Effect, as it is sometimes called, for the twenty years leading up to World War Two.
Before leaving the KM-2 discussion, perhaps we should return tothe reporter who originally broke this story of the German"Electromagnetic Rocket" in 1947, Lionel Shapiro for a closer look at who he really was. It seems this reporter does have a history of breaking or leaking stories through the North American Newspaper Alliance. These stories which, prior to his involvement, could only be classified as "secret". The point inquestion is a 1946 report, brought to our attention though the extensive research of Dr. Milos Jesensky and Mr. Robert Lesniakiewicz and translated into English for me by Milos Vnenk. This account is of post-wartime intrigue can only be outlined here.
On October 13, 1945, over five months after the hostilities in Europe had ended, the French embassy in Prag notified the Czechoslovakian Foreign Ministry that an SS officer in a French detention camp had given them information that a cache of secret documents existed near Prag. This cache took the form of a tunnel in which 32 boxes of secret documents were hidden and were wired with explosives before being sealed at its opening. The French offered their services and the information given to them by the SS officer in question, Guenther Achenbach. But even after three months of waiting, no response was received by the French from the Czechoslovakian Foreign Ministry (16).
Somehow the Americans got wind of this information. Incredibly, the Americans on February 13, 1946 mounted an armed incursion into Czechoslovakia which was in the Soviet sphere of occupation, retrieved this hoard of information and escaped back into occupied Germany. Naturally the Czechoslovakians were furious and demanded and got an apology from the Americans. They also demanded the return of the German documents stolen from their sovereign territory. The Americans did return documents but probably not those sensitive documents for which the expedition was mounted (17).
Dr. Jesensky and Mr. Lesniakiewicz have made an extensive studyof the German technical facilities surrounding Prag and the purposes for these facilities. It is their conclusion that the sensitive technical information recovered and which prompted this dangerous action was nothing other than plans of the German disc airplane, the "V-7" (18).
135
The KM-2 Rocket—Mystery Solved

Top: T.T. Brown's flame-jet generator, capable of supplying millions of volts. Middle: Brown's saucer design which is definitely food for thought. Bottom: Brown's electric rocket incorporating flame-jet generator. The KM-2 rocket must have been a very similar device.
136
It was Lionel Shapiro, writing under the name Lionel S. B. Shapiro who broke this story for the North American Newspaper Alliance (19). As confirmation, it can be added that the story was also covered by Ms. Lux Taub in the Swedish publication "Expressen" with stories on 2/19/46, 2/22/46 and 2/24/46 (20).
In the immediate post-war world there seems to have been a relaxation on the release German technical information. Not the detailed analytic work done by the various Allied intelligence teams combing the carcass of the dead Reich, but the popular reporting by Shapiro and others who received the "o.k." to publish brief stories recounting Nazi technology which would be squelched later as the cold war got underway.
But even given this relaxation, what are the chances of one reporter stumbling upon both the stories of the electromagnetic rocket and the U.S. incursion into Czechoslovakia, first, and on his own? It is also noteworthy that both of these stories dealtwith the topic of this book, or at least one which is related to that theme. Mr. Shapiro must have been a very well connectedreporter indeed! He is also an excellent source of information.
A point of speculation should be made concerning the KM-2 device. As stated above, T. T. Brown believed that water vapor or steamwas a suitable medium for his electrokenetic generator. Water vapor is present in the atmosphere, as we all know. A small atomic engine, such as was mentioned earlier in connection with the Messerschmitt P-1073, burning and being cooled by atmospheric gasses, might provide enough water vapor to enable the electrokenetic generator to produce the high voltage required.This would be an atomic powered field propulsion device. Further, Friedrich Georg gives us details on an atomic steam engine with the Germans were designing to power a propeller driven aircraft (21). An easy substitution of a device similar to the Brown electrokenetic generator for the propellers couldhave been made enabling a device with all the characteristics given for the KM-2 electromagnetic rocket to have been born. And of course Dr. Giuseppe Belluzzo would have been waiting and willing to do the plumbing.
The KM-2 Rocket
Sources and References
Georg, Friedrich, 2000, pages 171-173

ibid

Infield, Glenn B., 1981, pages 179, 192, Skorzeny Hitler'

s

Commando, St. Martin's Press, New Yor

k

Infield, Glenn B., 1981, pages 173, 183
137
LaViolette, Paul A. Ph.D., 1993, pages 84-85, "The U.S. Antigravity Squadron" in Electrogravitics Systems Reports On A New Propulsion Methodology edited by Thomas Valone, M.A., P.E., 1994, Integrity Research Institute, Washington D.C.

ibid

ibid

LaViolette, Paul A. Ph.D., 1993, page 87

U.S. Patent Number 3,022,430, Granted: 2/20/62 to T.T. Brown, titled "Electrokinetic Generator"

ibid

LaViolette, Paul A. Ph.D., 1993, page 93

LaViolette, Paul A. Ph.D., 1993, page 87

LaViolette, Paul A. Ph.D., 1993, page 88

LaViolette, Paul A. Ph.D., 1993

U.S. Patent Number 3,022,430, Granted: 2/20/62 to T.T. Brown, titled "Electrokinetic Generator"

Jesensky, Milos Ph.D., and Robert Lesniakiewicz, 1998, pages 98-102, "Wunderland" Memozemske Technologie Treiti Rise. Aos Publishing

Jesensky, Milos Ph.D. and Robert Lesniakiewicz, 1998, page 100

Jesensky, Milos Ph.D. and Robert Lesniakiewicz, 1998, page 102

Jesensky, Milos Ph.D. and Robert Lesniakiewicz, 1998, page 100

Jesensky, Milos Ph.D. and Robert Lesniakiewicz, 1998, page 101

Georg, Friedrich, 2000, pages 87-89, Hitlers Sieqeswaffen Band 1: Luftwaffe Und Marine Geheime Nuklearwaffen des Dritten Reiches und ihre Traeaersysteme. Amun Verlag, Heinrich-Jung Verlagsgesellschaft mbH.
138
Field Propulsion Saucers
The existence of World War Two German field propulsion flying saucers is a topic which is denied by virtually every reputable authority in aviation history. It is also denied by manyresearchers studying German saucers. The problem is that in theyears immediately following the Second World War the earth's skies suddenly began to be populated by flying craft which didsome remarkable things. They flew at unheard of speeds. Theymade very sharp turns, seemingly non-aerodynamic turns, even at this extreme speed. They lacked the glowing tail of jets or rockets but they glowed or gave off light at night from their periphery or from the whole craft. They were silent or almostsilent. Sometimes they gave off sounds that an electric generator or motor might make. Sometimes vehicles with electrically based ignition systems ceased to operate in thepresence of these saucers. No government claimed these flying craft, yet they were seen all over the world.
The press and popular culture attributed these unusual craft to an extraterrestrial source. Yet, after over fifty years, no real proof for this assertion has ever come forth. Let's come back down to earth. By all accounts these saucer were solid and material in nature. Perhaps it is time to attribute their origin to a solid, material source.
It seems only proper to begin searching for an explanation for field propulsion saucers with the very sources which we now know built conventional flying saucers, the Germans of the Third Reich. The earliest reference to a field propulsion saucer being a German invention is from a 1960 book by Michael X in which it is described as a "flying egg" (1). Michael X., under the name Michael X. Barton, is also the author who, in 1968, wrote The German Saucer Story. In the second book returns to the theme again (2). This time he cites a source. His primary informant, Hermann Klaas, describes twelve secret weapons to Barton. They are:
The flying disc

A tank made entirely of one piece of metal

The sound wave weapon

A laser beam weapon

A flaming artificial cloud

A robot bomb

A charged cloud weapon

An armor piercing projectile

The electromagnetic KM-2 rocket

A paralyzing ray

Electronic ball lighting

The flying bottle, tube, sphere, etc.
Thirty-two years later we certainly know that some of these weapons did exist. It has been confirmed that the Germans were
139
working on weapons numbered 1, 2, 3, 6, and 8 for instance. It has been confirmed that the Germans were working on x-ray or gamma ray weapons as well as another type, possible laser weapons. It has been confirmed that the Germans were working ona gaseous cloud as a means of combating enemy bombers. So in view of this track record, his claim of research on a "flying bottle" should be given serious consideration.
But what is the specific evidence which would cause us to believe that the Germans were working on a field propulsion saucer? As one paws through the literature on German saucers, some evidence is encountered which could indicate field propulsion vehicles. There are the still pictures which will be discussed later on. Here, we will focus on just three pieces of evidence, that of an eyewitness, a German pilot, who saw such things on the ground, a Combined Intelligence Objectives Sub-Committee report and an F.B.I. report. The F.B.I. report was taken years after the war but for reasons which will be discussed, there is reason to conclude this report has merit.
German Eye Witnesses
The first report comes to us courtesy of researcher Horst Schuppmann. A friend of Mr. Schuppmann's interviewed an eyewitness to German saucers during the Second World War. Thisreport first appeared in the 1998 Geheimtechnologien. Wunderwaffen Und Irdischen Facetten Des UFO-Phaenomens by Karl-Heinz Zunneck (3).
The subject of this interview was a German pilot who flew manymissions in a JU-52, taking off and touching down in rough, presumably outlying airfields. The Junkers JU-52 was an aircraft used by the Luftwaffe for many roles and could be described as a mainstay or a workhorse. It was a transport airplane, a troop carrier and even had been used as a bomber. It resembled and was used in a similar way to the American Douglas Dakota or DC-3. The main difference between the two aircraft was that the JU-52 had three engines as opposed to the Dakota's two and the JU-52lacked a traditional airframe, instead deriving structural strength from a unique corrugated metal shell, which also made the appearance of the JU-52 distinctive.
The sighting in question was reported to the author, Mr. Zunneck, by Horst Schuppmann whose friend knew the pilot of the JU-52 in question. The date was July, 1944. Accompanying the pilot on this three and one-half hour flight was a co-pilot, a mechanic, and the radio man. The airplane took off from Brest-Deblin and flew on a westerly course to Lublin. The flight was unfolding smoothly which was somewhat abnormal for the particular time and stage of the war. Over Stettin Lagoon preparations were made to land. A large white cross was sighted which was the marker for their goal, a meadow landing strip. The aircraft descended,
140
landed normally and rolled toward a group of bushes which would hide the aircraft from view.
Then things took a decided turn to the abnormal. Harsh orders were received that the pilot, co-pilot and mechanic were not to exit the airplane. Suddenly, the radio man had vanished. The others waited an hour in vain for his return. Finally, the pilot decided to get out of the airplane and find his missing crewman, without orders, and on his own.
On the airfield itself nobody was to be seen. There was only one building visible which was a lonely hanger. The pilot, ever concerned with maintaining cover, headed straight for this hanger. Upon arrival he opened an narrow, high sliding door and entered, hoping to receive some information. No person was to be seen but what the pilot did see bewildered him so that the image was deeply ingrained in his mind.
There in the hanger stood three or four very large, round, dark dish shaped metal constructions on telescope-like leg stands. The objects were about 6 meters off the ground and the objects themselves were 12 to 15 meters in diameter. The pilot compared the shape of the objects to a giant soup dish or soup plate.
Suddenly, out of the half darkness a military guard emerged. The guard let the pilot know that he was in an area which was strictly off limits. In fact, the pilot was told, on no uncertain terms, to disappear immediately or this would be his last day on earth.
This day had started as a routine flight connecting two outlying airfields. This pilot had no expectations of seeing something so unusual that he barley had context in which to place it. Further, even as his mind was transfixed and in a process of trying to give understanding to what he was seeing, he was suddenly. jolted out of this tableau by a guard threatening his very life and ordering him to leave.
Of course the question of what those objects in the hanger really were comes back to this pilot even after almost 55 years. The pilot personally attributes it to the so called "Magnetscheibe", literally, "magnet-disk". According to the pilot rumors of these objects circulated in pilot circles since the summer of 1944 (4).
Two things can definitely be said of this sighting. First, it can be said is that this sighting seems to be of the smaller type of German field propulsion saucer as opposed to a larger version. Second, these saucers can definitely be ascribed to belonging to and in the possession of German military forces during the Second World War. At no time in this report has the word "alien" or "extraterrestrial" ever been mentioned or even considered.
Beyond that it can be said that the pilot personally believed these to be of the "Magnetscheibe" type, that is to say not
141
powered by chemical combustion. There reasons to believe this is correct. These saucers were found on a remote and rather primitive airfield. They were in the only building present. This means that they did not need an extensive support system.
The chemically powered jet or rocket engines needed an extensive field support structure. They needed to be refueled after every flight. The two liquid fuels used by the Me-163 rocket-fighter, for instance, ignited immediately when they came into contact with each other with explosive intensity. The fuel tanks had to be washed out after each flight and separate ground crews were responsible for each type of liquid fuel. It is noteworthy thatno such support ground support structure or personnel was inevidence on this occasion. All that was observed was a largestructure filled with saucers and a guard. The ground supportnecessary for launch of these craft must have been minimal and argues for the field propulsion hypothesis.
Of course the weakness in this report is the lack of the name of the pilot. Even if this report is taken at a minimal level of credulity, it constitutes a rumor of German involvement with field propulsion vehicles.
The reader will recall that the research paradigm being followed is that once mention was made by a German source of a particular thing, then (and only then) corroborating information should be sought from U.S. governmental agencies using FOIA.
A Combined Intelligence Objectives Sub-Committee Report
Since we have a German claiming field propulsion saucers we can now follow our research paradigm and search governmental records for corroboration. The Combined Intelligence Objectives Sub-Committee reports are a series of reports compiled by agents of the United States and Great Britain. Most were written immediately after the field work was done. The agents targeted specific things such as sites, people, specific technology or other aspects of specific interest. The agents then wrote a summary report which is what is entered into the record.
As with almost all summary reports at this level, the implications of what is being described are lacking. These reports do not set the particular technology into any context. That is, these reports doe not say how a specific technology under study was to be applied in the future in some, if not most, cases. Behind these reports must be a body of information and at least a few individuals intimately familiar with the technology in question. They were familiar with the technology and the context to which it was useful. If another government operative was interested in that topic or its implications, and if his security clearance sufficed, he would be shown the underlying material and presumably be directed to the particular individual
142
Combined Intelligence Objectives Sub-Committee Report #46 Dr. Georg Otto Erb
who was its residing expert. Only slowly, if at all, was this secret science leaked or given to American industry and then only with an appropriate cover-story, one which may even supply a pseudo-inventor of that technology. This is conspiracy at its finest. This deception is beyond the scope of this book but what is important for us now is that sometimes a mistake or slip-up was made in writing or censoring these reports and hints of things of stupendous technological worth actually surfaces. Such is the case with Combined Intelligence Objectives Sub-Committee Report number 146 regarding Dr. Georg Otto Erb and his work which is reproduced here.
Dr. Erb was on the cutting edge of several technologies according to this report. None of these technologies was especially exciting in 1946, however. Jets, rockets and atomic energy where the hot-ticket items of the time. Nobody cared about new sources of electrical energy. The USA had plenty of electricity and plenty of oil to generate more. It was also known by then thatatomic power could be applied to generate even more electricity. Nobody cared about Dr. Erb's experiments listed under item (iii) "Apparatus for conversion of residual heat into electrical energy" or item (viii) "Electrical sources of energy of various kinds" or even item (ix) "Apparatus for turning the energy of the sun's rays into electrical energy". Since nobody cared about these things, there was really no reason not to list them in the summary report. Their significance would only be realized a generation later during the "energy crisis" of the mid-1970s and by then it was too late to censor the report. One can only wonder where this research would have led if it funding hadcontinued over the next thirty years. Or did it continue in secret?
Of course by now many readers will have already read number and grasped the significance of number (x) "Rearward impulse propulsion for vehs and aircraft". Given the nature of Dr. Erb's other work, it is a safe bet that this "impulse propulsion" was not of the jet or rocket nature. In fact there remains little doubt that this propulsion was, in fact, field propulsion. Dr.Erb was experimenting on means to apply forward motion using rearward impulse propulsion to aircraft and "vehs" (vehicles). If this is not the smoking gun for German experiments in field propulsion saucers, it is at least a hint that there is a gun.
The Smoking Gun: An F.B.I. Report
That is right, Fox Mulder was not the first F.B.I. agent to believe in UFOs. The files in question are F.B.I. file numbers62-83894-383, 62-838994-384 and 62-83894-385. Their date is 11/7/57 to 11/8/57. They deal with a Polish immigrant, then living in the United States, who reported his wartime experience to the Bureau hoping it might throw some light on UFO sightings seen in Texas at about this time.
144
F.B.I. Reports On A German Field Propulsion Saucer F.B.I. Reports On A German Field Propulsion Saucer
F. B .I . Reports On A German Field Propulsion Saucer
F.B.I. Reports On A German Field Propulsion Saucer
149
F.B.I.

Reports On A German Field Propulsion Saucer
F.B.I.
Reports On A German Field Propulsion Saucer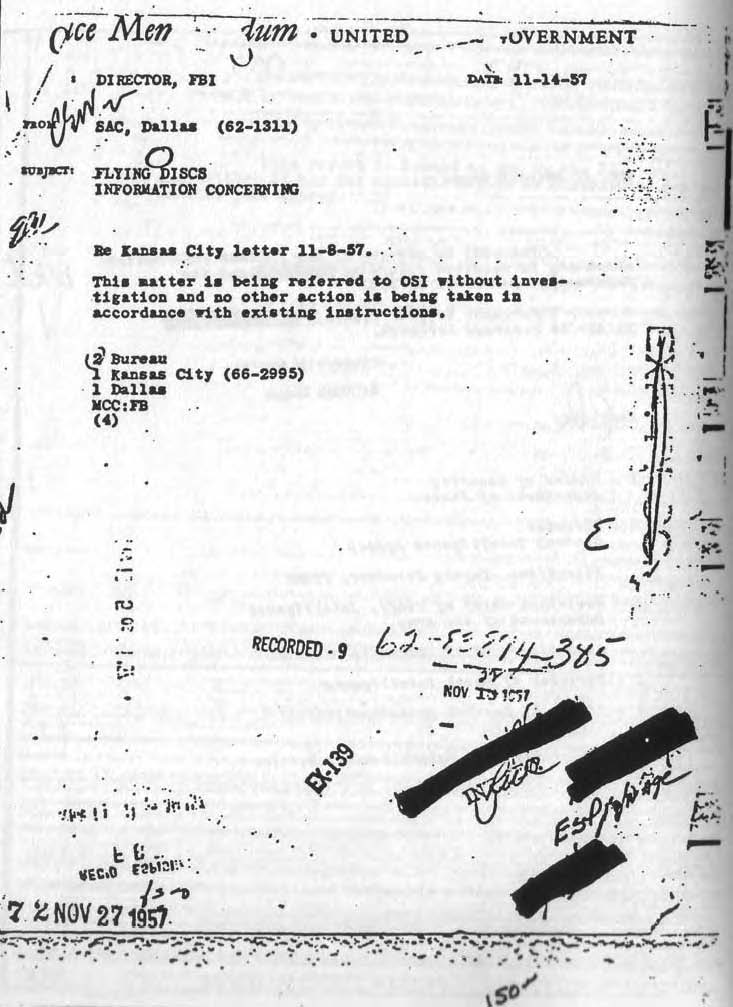 F . B . I . Reports On A German Field Propulsion Saucer
F.B.I. Reports On A German Field Propulsion Saucer
153
The time of the sighting was in 1944, the place was Gut Alt Golssen, approximately 30 miles east of Berlin. The informant, whose name has been deleted, states that while he was a prisoner of war working for the Germans, a flying object arose nearby from behind an enclosure hidden from view by a 50 foot high tarpaulintype wall. It rose about 500 feet then moved away horizontally. The only noise the object made was a high-pitched whine. The object was described as being 75 to 100 feet in diameter and 14 feet high. It was composed of a dark grey stationary top and bottom sections five to six feet high with a rapidly moving center section producing only a blur and extending the circumference of the vehicle. Notably, the engine of their farm tractor stalled during this event and the SS guards told the driver not to attempt a restart until the whine could no longer be heard.
Because of what I believe is their importance, these files have been reproduced here in their entirety. One of the most compelling reasons for taking this report so seriously is that the government of the United States of America took this report so seriously. It is hard to believe that an agency such as the F.B.I. would take and retain reports of flying saucers which had no special meaning for them. Add to this the fact that this report was over ten years old at the time it was taken and thatit concerns a report originating in another country.
The F.B.I. operates within the USA and usually does not concern itself with foreign matters unless they have meaning for the internal security of the United States. Could the reason that this report was taken and retained for so many years be that it did, in fact, have meaning for the internal security of the United States? Did it have something to do with the flying saucers seen over Texas at the time which also stopped motor vehicles?
As an alternative to the security issues, could there have been another reason that the F.B.I. was so interested in flying saucers? Did the F.B.I. desperately want information on UFOs which was held by the military and other branches of the intelligence community which was not shared with the F.B.I.? It has been rumored that J. Edgar Hoover, head of the F.B.I. at the time, was very interested in learning these secrets but was held "out of the loop". It could be that the F.B.I. was already aware of German saucers through security clearances done on Germanscientists coming to the USA under Operation Paperclip? The ego of J. Edgar Hoover may have been a factor in the Bureau's guest to learn more on this subject. Hoover may have wanted to be on an equal footing with other intelligence chiefs.
For whatever reason, something in these reports resonated withthe F.B.I. The report was taken seriously, investigated and kept. This fact alone speaks volumes for the existence of UFOs in general and German saucers in particular.
154
Discussion of German Field Propulsion Saucers
Some explanation has been attempted regarding the Schauberger
models and the KM-2 rocket. From this point on, the discussion
of German field propulsion saucers will move away from the areas
centering around observed evidence and into areas of interpretation. Some of the German flying craft described are flying saucers in the classic sense. The F.B.I. report describes something which moves by non-aerodynamic means and which remains the source of speculation.
At this point, mention should be made of the ideas of some prominent writers in this field. The first of these is Mr. William Lyne of Lamy, New Mexico. Mr. Lyne has written two books concerning German saucers and field propulsion, Pentagon Aliens
and Occult Ether Physics. His ideas on the mechanisms of field propulsion remain the best thought out and the most detailed on the subject.
Mr. Lyne lives near the secret weapons testing facilities of Los Alamos and White Sands. These were the places where German weaponry was brought for testing after the war and where the United States tested its first atomic bomb. It is still an area Of secret military research and secret military projects. Then as now, aspects of atomic energy figure in this setting. It is also an area which attracted much flying saucer activity in the late 1940s and 1950s. Mr. Lyne was a child during this period of time and personally witnessed flying saucers as did his family and friends. Later, as an adult, he went about trying to explain mechanisms for the type of flight he had witnessed.
Lyne worked within certain parameters. He rejected the alien hypothesis outright. been made by humans.He realized that flying saucers had to have Since he observed the saucers in the 1940s and 1950s, he knew that any explanation of their workings must be limited to the technology present in the 1940s or earlier. He connected UFO technology to other recently imported technology from Germany while believing both had their origins with Nikola
Tesla (5).
Further, there is no mention of intangibles by Mr. Lyne. There are no unknown energies or mystical forces at work. Mr. Lyne stands with both feet on the ground. Things are concrete. Machinery is diagramed. Matter and energy function as they always have. In reading Mr. Lyne's work one can almost smell the machine oil and the ozone.
Mr. Lyne builds upon the work of Nikola Tesla who developed his unique ideas over many years of experimentation and invention.This basis built upon real world experimentation, testing and application separates Tesla's ether theory ideas from those which will be explored later. Mr. Lyne presents us with an ether theory in which ether is super-fine matter which exists everywhere. It is so fine that it will go through the holes left
155
in ordinary matter (6).
A few words about Mr. Lyne's ideas are necessary to set a context for this discussion. Just as an internal combustion engine can be described as a "heat pump" so can the flying saucer drive of Mr. Lyne be described as an "ether pump". Ether (very fine matter) is attracted to the saucer via an electric field, then pumped through the saucer and out again using the principle of magneto-hydro-dynamic pumping (7). This magneto-hydro-dynamic pumping is related to the Hall Effect. Edwin Hall placed a gold leaf strip in which an electric current was flowing into a gap in a magnetic field. An electromotive force was produced at right angles to the magnetic field and the electric current. This electromotive force was proportional to the product of the electric current and the magnetic field (8).
According to experimentation by Tesla, ether is made rigid with high voltage, high frequency electrical energy (9). The convex shape of the upper half of the saucer projects the electricalattractive force, generated by a specific electronic component, in an ever expanding arch over the saucer. Ether is made rigid and anchors the saucer. This is possible since the total mass of the ether caught in the electric field is far greater than the mass of the saucer. Near the surface of the saucer, the "rigified" ether is pulled into the saucer in what Mr. Lyne calls "tubes of force". These tubes of force would be pulled rightthrough the opposite side of the saucer and out if it were not for the blocking force of a second apparatus which nullifies the tubes of force and prevents this from happening. This imbalance is the reason the saucer is able to move (10).
The electrical components necessary for this to take place are, according to Mr. Lyne, a Tesla turbine to supply electrical power and two types of Tesla pancake coils (11).
The Tesla turbine is a wheel-like device which is described in Mr. Lyne's book (12) and elsewhere (13). Mr. Lyne orients this turbine vertically in his drawings but oriented with its flat spinning surface horizontally, this might, perhaps, account for the spinning disc witnessed on some saucers.
The Tesla pancake coils are also described in both sources cited. Mr. Lyne goes further and gives instructions as to their manufacture. One type of pancake coil insures forth a negativedischarge of DC energy, tuned to a one-fourth wave length, and is oriented in the desired direction of flight (14). The other type of pancake coil is mounted exactly opposite the first and emits a positive AC discharge which is used to dissolve the ether flow or tubes of force.
Dr. Gordon Freeman, a Fucannelli-like scientist who knows about such matters, has been curious about the abbreviated wave-cycle of the first pancake coil. His position is that one must not only understand conventional scientific theory in order to
156
Tesla, Vril And Coler Devices
Top Left: Pancake Tesla coil with the secondary coil inside the primary. Top Right: The smaller of the Hans Coler free-energy machines. Bottom: Cut away showing Vril power plant. Was this related to the Schappeller device?
157
understand the way a field propulsion saucer flies but one mustalso understand some concepts which are sometimes labeled "occult". Dr. Freeman has worked out a "common denominator" for some field propulsion vehicles the essence of which he has shared (15). Dr. Freeman's ability to analyze, explain and interrelate physics, engineering and "occult" geometry is only matched by his ability to explain it all on a level we can all understand.
Some individuals see hidden, esoteric or occult knowledge as the inspiration for the breakthroughs the Germans made in field propulsion flying vehicles. Usually coupled with an exotictheory of UFO origin, it is an egually exotic local from which this exotic theory is said to have originated. We have been presented with this line of reasoning for years in the "UFOs are of extraterrestrial origin" theory. Indeed, some writers see an extraterrestrial origin for German UFOs also as we shall see. But just stating that UFOs are of occult or alien origin is not an explanation in itself. It still begs the question of how they operate. Their method of operation, their technology, must be explained regardless of where they came from in order for the explanation to be a satisfying one.
Returning to earth, another theory is that the German scientists were influenced by some ideas originating in Asia. Tibet and India are the suspects in question. UFOs have been reported over Mongolia, Tibet and India for centuries. The ancient Indians even claimed to have constructed aircraft which resemble flying saucers. These saucers are called Vimanas. Ancient Indian texts in Sanskrit speak of the flight and manufacture of these saucers. The German "Ahnenerbe", an organization whose purpose is associated with researching Germanic ancestry, sent outexpeditions to the East with the express purpose of acquiring ancient, hidden knowledge. This is precisely what Heinrich Haarer was doing, whose book served as the basis for the film "Seven Years in Tibet". This link between flying saucers of the East and the West is suspected as an influence on German field propulsion vehicles (16). The exact connection, though, has never been demonstrated.
A connection which is more certain involves Viktor Schauberger's use of Pythagorean geometry. There is no doubt that Schauberger incorporated this mathematics into his work but what is intriguing is what is said about this body of mathematical knowledge. The story goes that it was the Knights Templar who stumbled upon this knowledge in the Holy Land during the Crusades and it was they who kept and incorporated this knowledge through the use of "sacred geometry".
Both the above mentioned schools of thought lead far beyond the parameters of this book but the reader should be aware of what is said about them and their relationship to German flying discs.
Whether it is called "occult technology" or "conventional technology", in the end, it is just simply technology. And in
158
the end, as Dr. Freeman says, "all machines can be reduced to numbers". What is called by some "occult" might be better called "arcane". This is because this technology, which seems to be the basis of field propulsion, is taught only to certain individuals, technological initiates, who use and need this knowledge for their work on government sponsored black projects. These scientist utilize a technology and understanding which are reserved for their use alone. This knowledge is not taught and not made available to the rest of us. We, the great unwashed masses, are given Einstein and the Theory of Relativity and toldthat this is the pinnacle of learning. As with all secret information, this arcane knowledge is held on a "need to know" basis. Our government believes that we simply don't need to know. It takes a true genius like Dr. Freeman to recognize this knowledge and set it before us in language that we can understand. It is hoped that Dr. Freeman will publish a book sooner rather than later.
Mention of the "occult" brings us to another line of evidence concerning field propulsion, that put forth by Norbert Juergen-Ratthofer and Ralf Ettl. Mr. Ettl became involved while doing research for a film project on Dr. Wernher von Braun. A film company was paying for this research. A package or several packages of information were obtained by the production company which had more to do with UFOs than rocketry. This information was laid aside by Mr. Ettl but he returned to it after enlisting the help of Norbert Juergen-Ratthofer who had a special interest in that subject (17).
The packages contained breathtakingly clear photographs of Germansaucers in flight. Some of these pictures may be just models but some look authentic and are posed against a landscape. Nowadays, pictures can be generated via computer and these pictures surfaced within modern times. At least one negative from these pictures which was given to Mr. Vladimir Terziski by Mr. Juergen-Ratthofer and seen by this writer, so at least not all of these pictures were computer generated. The pictures have been seen in public and through video film presentation, for about ten years. To the best of my knowledge these pictures have never been debunked using modern technical photo-analysis. Therefore, they have never been shown to be anything less than legitimate. Until they are shown to be less than legitimate, we must accept them as they are represented to us.
Besides the pictures, these writers provide an entire historical and cultural context for these saucers within the Third Reich, This contest involves secret organizations within the SS.Further, the context provided by these writers involving the occult, channeling, and extraterrestrials. This is the weak point of their presentation since the case for these latter connections is really not strong enough to be "in evidence".
Besides the books of Mr. Ettl and Mr. Juergen-Ratthofer, several other German language writers contribute books on a similar or
159
Haunebu 2 Test Flight
Ghostly image of a saucer, said to be a Haunebu 2, on a test flight. Photograph originally from collection of Norbert-Juergen Ratthofer, courtesy of Vladimir Terziski
160
related theme. The more notable are D.H. Haarmann (18) and 0. Bergmann (19). Mr. Ettl and Mr. Juergen-Ratthofer themselves have written several books which are all in German language and available through their publisher (20). Mr. Ettl and Mr.
Juergen-Ratthofer have also done two video films, "UFOs Das Dritte Reich Schlaege Zurueck?" and a second film, whose English title is "UFO Secrets of the 3rd Reich". This second film is very well done and contains the pictures mentioned earlier.
These films should be seen by anyone seriously interested in German field propulsion saucers (21) (22).
Mr. Juergen-Ratthofer, Mr. Ettl and allied writers offer two different systems for field propulsion. The smaller saucer-type, which they designate "Vril" was powered by three movingmagneticfields (23). The larger type, designated "Haunebu" was powered by a series of devices according to these writers. In this arrangement, the output of smaller of the Hans Coler "freeenergy" devices (24), the "Magnetapparat", was used to supplyinput for the larger Coler device, the "Stromerzeuger". The output of this second device was used to turn a Van de Graaf generator. This energy was directed into something called a Marconi ball dynamo with supplied lift to the saucer (25)(26).
All that seems to have been said about the latter device is that it is mentioned in the same sentence with special saucer condensers developed by T.T. Brown and Professor Paul Biefield in the nineteen twenties and that "such" ("solche") with a rotor system was done by Professor Marconi, in Italy, in the nineteen thirties. Mr. Juergen-Ratthofer goes on to say that this device is to be considered, in principle, a forerunner to the Searl system (27).
The Haunebu pictures strongly resemble the Adamski saucer pictures of the early 1950s. These saucers were seen and pictures of them taken world-wide. There were many different sources for both sighting of Adamski saucers and pictures of them. There were so many in the early 1950s that it is hard to believe that all of them are fakes. Mr. Ettl and Mr. Juergen- Ratthofer maintain that these "Adamski saucers" are really the German-designed Haunebu type saucers (28). Since they were flown after the war, certain questions as to their origin arise. These questions will be treated in an upcoming section of this book.
Besides the Vril and Haunebu designs mention is made by Mr. Juergen-Ratthofer of another type of field propulsion vehicle. This saucer uses a chemical engine to drive a field propulsion generator (29). The type of chemical engine involved is similar to the famous Walter (Walther) engine, which were to be installed on some types of German submarines.
The Walter process involved a closed circuit system activated by the thermal energy produced by the decomposition of a highconcentration of hydrogen peroxide. This reaction occurred in the presence of a catalyst, potassium permanganate, in a
161
Hybrid Saucer Design
Chemical/Field Propulsion Saucer (N. Juergen-Ratthofer). 1. Plexiglass pilot's cabin. 2. Crew rooms. 3. Intake air slots (hermetically sealed in space). 4. Vacuum ring retainers with high-performance vacuum pumps. 5. Lifting and steering jets connected to the Walter turbine system. 6. Walter turbines andelectric generators with connected machine maintenance rooms. 7. Disc rotor wheel, rotating clockwise. 8. Electromagnet outer ring rotating counter-clockwise. 9. Disc wheel, inner part of the electromagnet outer ring. 10. Segmented disc-rotor and wing screw with adjustable flight blades. 11. Axis of saucer with (a) two electric motors to drive the counter rotating disc motors:electro-gravitation plant, (b) various electrical connections,(c) fuel and water tanks. 12. Connection shaft between pilot'scabin and machine room.
162
decomposition chamber. This resulted in a 600 to 700 degree gas composed of steam and oxygen, under natural pressure sufficient to drive a turbine. After the gas had done its work if was fed into a reclamation chamber which recycled at least part of the gas back into the engine. Additional fuel, Juergen-Ratthofer mentions methanol, could be fed into the system for more heat. The system without additional fuel is called the "cold" system while with added fuel it is called the "hot" system. In fact, the cold system was used on the V-2 rocket to drive the turbo-fuel pumps since known pumps could not handle the volume of liquid necessary to feed this new type of rocket.
In the hybrid saucer Mr. Juergen-Ratthofer describes, the cold system drives a rotor-stator arrangement which doubles as a blade lifting wing similar to that of a helicopter. The rotor-stator-blade is internally housed in the cowling of the saucer. The output of the rotor-stator is a strong magnetic field which presumably frees the saucer of the constraints of gravity asclaimed for the other field propulsion saucers (30). In addition, spaces within the saucer have all air removed by special vacuum pumps with increase the buoyancy of the craft within the atmosphere. Further, some of the hot oxygen-steam mixture is jetted out at the periphery of the saucer while being mixed with methanal for additional heat and therefore thrust. Again, we are reminded of Dr. Belluzzo. We are also reminded of Vesco since he hints at a similar engine (31) which he even vaguely links with "electromagnetic waves" (32). Have we come full-circle?
In the same vane, would be negligent not to mention that an atomic engine might easily be substituted for the Walter engine. The atomic engine might be one of three types. It might be the typeproducewhich burned the atmosphere itself. This burning would hot air and steam from the water contained in the
atmosphere. It might be one which produced steam using water carried in tanks. It might be one which super-heats and ejects a gas such as hydrogen or helium. Any of these mediums could be ejected through the rotor blades yielding the desired result. A device of this type would tie together many of the German saucers-plans so far discussed.
Dr. Freeman points out that Marconi "stole" Tesla's inventions. Tesla also built a power-plant of spherical construction which contained vacuum tubes and so may have been superior to the device of Schappeller which we shall look at next. Surprisingly, some detail exists about this Tesla free energy device (33). Tesla used his engine to successfully power a Pierce Arrow automobile. This means that a spherical, working field propulsion device existed in the USA powering, not a flying saucer but an automobile. Dr. Freeman warns not to be confused by many spherical devices, all of which seem different. The fact is that they all work on the same principles (34).
163
German Field Propulsion Flying Saucers Sources and References
X, Michael, 1960, pages 17, 33, We Want You Is Hitler Alive?, Futura Press, reprinted 1969 by Saucerian Books, Clarksburg, WV.

Barton, Michael X., 1968, pages 26-36, The German Saucer Story, Futura Press, Los Angeles

Zunneck, Karl-Heinz, 1998, pages 120-122, Geheimtechnologien. Wunderwaffen Und Irdischen Facetten Des UFO-Phaaenomens 50 Jahre Desinformaton und die Folaen. CTT-Verlag, Suhl

Zunneck, Karl-Heinz, 1998, page 122

Lyne, William R., 1999, page 48, Pentagon Aliens. Creatopia Productions, Lamy, New Mexico 87540

Lyne, William R., 1999, page 28

Lyne, Willaim R., 1999, page 38

Lyne, William R., 1999, page 21

Lyne, William R., 1999, pages 20, 41

Lyne, William R., 1999, page 42

Lyne, William R., 1999, pages 197-200

ibid

Trinkaus, George, 1988, pages 3-4, Tesla The Lost Inventions. High Voltage Press, Portland, OR.

Lyne, William R., 1999, page 215

Freeman, Gordon Dr., 3/18/01, personal letter to author

Stoll, Axel Ph.D., 2001, pages 15-20, Hochtechnologie im Dritten Reich Reichsdeutsche Entwicklunqen und die vermutlich wahre Herkunft der "UFOs". Amun-Verlag, Schleusesiedlung 2, D-98553 Schleusingen

Ettl, Ralf, 1999, page 11, "Notes To The Vril-Project" Ursprung und Quellen

Haarmann, D.H., 1983, Geheime Wunderwaffen

r

II Geheime Wunderwaffen. III Geheime Wunderwaffen, Hugin Gesellschaft Fuer Politisch-Philosophische Studien E.V., Postfach 23, D- 48472, Hoerstel 3, Germany
164
Bergmann, O., 1988 and 1989, 1 Deutsche Flugscheiben und U- Boote Ueberwachen Die Weltmeere. 11 Deutsche Fluqscheiben und U-Boote Ueberwachen Die Weltmeere, Hugin Gesellschaft Fuer Politisch-Philosophische Studien E.V., Postfach 23, D-484772, Hoerstel 3, Germany

Dr.Michael Daemboeck Verlag, Markt 86, A-3321 Ardaggr, Austria

Video Film "UFOs Das Dritte Reich Schlaegt Zurueck?, available through Dr. Michael Daemboeck Verlag, see reference

(18)

Video Film "UFO Secrets of the 3rd Reich" available through Total Solutions International, Las Vegas, NV.

van Helsing, Jan, 1993, page 129, Geheim Gesellschaften und ihre Macht im 20. Jahrhundert, Ewertverlag, Meppen, Germany

British Intelligence Objectives Sub-Committee Final Report No. 1043 Item No. 31, "The Invention Of Hans Coler, Relating To An Alleged New Source Of Power"

Video Film "UFOs Das Dritte Reich Schlaegt Zurueck?, available through Dr. Michael Daemboeck Verlag, see reference

(18)

Juergen-Ratthofer, Norbert and Ralf Ettl, 1992, page 51, Das Vril-Projekt. Dr. Michael Daemboeck Verlag, Ardaggr, Austria

Juergen-Ratthofer, Norbert, date unknown, page 16, "Geheime UFO, 1. Folge: Flugscheibenprojekte aus verschiedenen Staaten der Erde", this article was courtesy of Theo Paymans, Holland

Juergen-Ratthofer, Norbert, date unknown, pages 84,85, Fluqscheiben und andere deutsche und iapanische Geheim- und Wunderwaffen im Zweiten Weltkrieg, self-published, available through reference (18)

Juergen-Ratthofer, Norbert, date unknown, pages 1 and 16,"Geheime UFO, 2. Folge So baut man fliegende Untertassen—und so funktionieren sie", this article was courtesy of Theo Paymans, Holland

ibid

Vesco, Renato, 1976, pages 163 and 164, Intercept UFO. Pinnacle Books, New York

Vesco, Renato, 1976, pages 135-136

Nieper, Hans A., 1985, pages 188-189, Conversion of Gravity Field Energy Revolution in Technology, Medicine and Society, MIT Verlag, Oldenburg
165
34. Freeman, Gordon Dr., 3/18/01, personal letter Atomic Saucers Again?
It is possible that all of the options for the field propulsion of German flying discs have not been presented or had a fair hearing. Two of these other possibilities are reviewed below. The first is the possibility that a world-shattering breakthrough in field propulsion occurred during the Third Reich involving atomic energy. This is plausible given the extensive and mostly still-secret atomic research done by the Germans coupled with the government's attempt to down play UFO sightings immediately following the war. The second possibility is that a field propulsion device was developed out of the early work of the Austrian inventor, Karl Schappeller. This possibility is strengthened by the fact that individuals and organizations involved in this research openly acknowledged that one of their aims was to build an "ether ship".
The German conventional saucer program culminating with atomic propulsion has been discussed. Evidence of German field propulsion saucers has been reviewed. We already know that each step in the conventional German saucer program was a logical development of the previous saucer design. The question is: did the power utilized in the German field propulsion saucers arise from nuclear power? Was there a breakthrough which has been kept secret for almost sixty years?
We have discussed the link between nuclear facilities and flying saucers. Is this evidence, in itself, that an association exists? The association could be for one of two reasons. First, these areas may simply have been the most secure facilities available. The two projects may not have been connected at all. For security reasons, both projects were simply run out of thesame area.
The second possibility is that the two projects were run out of the same facility because they are connected somehow. If there is a connection between nuclear energy and field propulsion, what type of connection is this? The connection under discussion is a direct conversion from nuclear energy to field energy. This connection is on the order of the connection between electricity and magnetism or heat and electricity or nuclear energy and heat. Does such a connection exist?
The answer I got from everyone asked was a resounding "no". The consensus seemed to be that the closest we could come to this was to convert nuclear energy to heat energy and then to electrical energy though the medium of a steam turbine. This is how nuclear power plants and atomic submarines work. This method seemed to have nothing to do with flight since the hardware involved is much too bulky and heavy.
166
We have already reviewed some other options for nuclear powered saucers. Klaus-Peter Rothkugel suggests that the atmosphere itself could be burnt using liquid air as a fuel and a nuclear reactor as a heat source. Friedrich Georg has documented some aircraft engine designs, apparently left on the drawing board, involving a propeller engine driven by steam heated by nuclear power. We have seen the enigmatic Messerschmitt design involving a small nuclear engine on a high-speed aircraft. We have also discussed the atomic rocket approach which involves heating and ejecting of liquid hydrogen using a nuclear reactor in the Lenticular Reentry Vehicle.
While there is no known direct connection between nuclear energy and field propulsion, Dr. Gordon Freeman has made me aware of an alternate method of production of electrical energy through the use of nuclear decay. This is important because with enough electrical energy both electrostatic and electromagnetic field propulsion are possible. Let me relate to you what Dr. Freeman told me as to how this process works. It is amazingly simple.
The simplest method involves the use of two solar cells which are the same size. A piece of paper, the thickness of a business card is cut to the same size as the solar cells. Radium chloride is painted onto both sides of the paper. The paper is then fitted between the solar cells. The radium chloride emits alpha and beta particles which activate the solar cell. The reader might ask, if this method works, why has it not been patented? The answer is, that in a slightly more efficient configuration, it has been patented (1).
There are other forms of this simple example. Imagine a simple circuit used for purposes of generating electromagnetic waves. This circuit would consist of a wire connecting a capacitor and then to a coil. An electrical input is given to this circuit whereby the capacitor is sufficiently charged in order for it to discharge. The electrical energy is carried by the wire to the coil where it is charged. Electrical energy is then carried back from the coil to the capacitor by another wire completing the circuit. Alternately, the capacitor (electrical field) and the coil (magnetic field) are charged and discharged. The output of this circuit are electromagnetic waves, such as fill the electromagnetic spectrum. The system works until electrical resistance in the three components converts enough electrical energy into heat to sufficiently degrade its output.
What is done using the new atomic decay system is to paint the capacitors with radium chloride. This unstable compound emits alpha and beta particles when magnetically or electrostatically pulsed. These particles are absorbed by the capacitors (as well as the other components), the end result of which is an increase in electrical energy in the circuit. If enough capacitors can be wired into the circuit in series to produce enough energy to offset the ohmic degradation, then the output can be maintained for a long time. Radium chloride has a half-life of 800 years.
167
Of course, if an extra capacitor were wired in to the circuit, an excess of energy would result. Even if this excess energy is small, it can be very important. Devices using a similar method have also been patented (2) (3).
In the next step, the circuit described above is given an antenna and a tesla coil. The radium chloride doped capacitors are turned to one of the resonant frequencies for the tesla coil. An antenna is used which is suitable for receiving this same frequency output. A feed back loop is set up whereby energy is being pulsed into the system in these resonant frequencies. It is estimated that an output of three thousand watts can be obtained from this "lifetime battery" with an input of only fifty watts (4). A transformer and other devices can be used to tailor the electrical output produced by this device according to the need. Details for construction and tuning of this "battery" are available commercially (4).
This whole device can be held in one's hand. Imagine the power of one hundred or one thousand such units. Certainly a U-boat or a field propulsion saucer could be powered using this system.
Dr. Freeman believes this nuclear doping might be the missing link in several free energy devices. Dr. Freeman has evidence that both the Hubbard and Hendershot generators were doped withnuclear material. He has evidence that Hubbard actually workedfor the Radium Company of America. Further, he has found evidence that it was radioactive material which was used to dope Moray's germanium valve (5).
Even further, he has suggested that the initial starting energy necessary for the operation of the Schappeller device, which will be discussed shortly, was supplied by a radioactively doped electret (5). Bolstering Dr. Freeman's claim is a U.S. patent using such a radioactive electret to maintain its charge (6). This is not the approach favored in this book, but the use ofsomething like the "lifetime battery" to start the Schappeller device is not beyond the real of reason. In fact, there is some evidence that a very strange battery was being produced in wartime Germany.
During the war years, at least until 1943, none other than Professor. W. 0. Schumann was engaged in building somethingcalled a "battery" at the Technical Institute at Munich. This battery was a project to itself and funded by the Deutschen Forschungsgemeinschaft, forerunner of the Reichsforschungrates, the Reich Research Council (7). The Reich Research Council coordinated high-priority war research between academic, industrial and military facilities.
This is the same Dr. Schumann who was brought to the United States after the war as part of Project Paperclip (8). This is also the same Dr. Schumann noted for the discovery of the Schumann Resonance. Dr. Schumann was no stranger to free energy
168
devices since it was he who evaluated a working Hans Coler devicein 1926 and could find no fault, hoax or bad faith, on the part of its inventor (9).
Rumor has it that Dr. Schumann's specialty was antennas and that he was responsible for building or improving American submarine communication after the war. It is said this was done by employing extra low frequency radio equipment and mile-long antennae which were towed behind the submarines themselves. The radio waves employed for this communication were said to go directly through the earth's center. Dr. Schumann also discovered something called the Schumann Resonance which deals with the resonant frequency of the planet earth itself.
Returning to wartime Munich, why would a full professor and world-class scientist be devoting years of research and government sponsorship to a battery while Germany was in themiddle of a war? The answer is that this battery was somethingspecial. Was this similar to the "lifetime battery"? Could this type of energy production have been the promised means of freeing Germany from dependence of foreign oil? Was this battery an energy producing device, capable of powering or starting a field propulsion saucer?
The old problem arises. The question is not could this be the way it was done. The question is was this the way it was done, What proof is there that nuclear decay was used by the Germans to produce energy by any other means than is in practice today? Dr. Freeman provides one hint.
This scrap of evidence involves a religious sect. It is the Methernita Society of Switzerland. This is a self-contained, Christian brotherhood who own large areas of land in Switzerland. Among their accomplishments is a free energy device they call the Testatika. One desk top machine can yield an output of 3000 watts. This machine or machines have been in existence since the late 1970s and have been demonstrated for outsiders, including scientists and engineers. No fraud has ever been detected.
High voltage is produced by electrostatic means using a Wimhurst generator as in integral part of the Testatika device. The counter-rotating wheels of the Wimhurst generator are not allowed to spin freely, but are purposefully restricted to lower revolutions per minute. Capacitors are used to hold the electric charge which is generated. Dr. Freeman believes that these capacitors are doped with radium chloride. The electric field of the capacitors increases the output of alpha and beta particles derived from the radium chloride. This electron flow is absorbed by the capacitors and other components and fed back into the system.
The Methernita Society has never been forthcoming concerning the workings of this device. The machine itself seems to be the brainchild of one person, Paul Baumann, who is described as a
169
Methernita Testatika with Doped Capacitors
Der Testatika-Generator Der erste wissenschaftliche Konverter zur Umwandiung elektrostatischer Energie in elektrodynamische Energie
"technician". Even in the old films of the Testatika, Mr. Baumann does not look like a young man. Germany is Switzerland's neighbor and what better place to utilize secret wartimetechnology than in a closed religious order. Dr. Freeman informs me that one of the builder's assistants talks of radioactive and non-radioactive forces in conjunction with this machine. Dr. Freeman has put these scraps of evidence together and made a drawing which is reproduced here.
Let's try reversing an eguation. What if the T. T. Brown relationship between a highly charged capacitor, gravity and movement were altered? What if the highly charged capacitor were fixed and unable to move in a gravitational field? Would not the energy evidenced in the movement of the capacitor in T.T. Brown's work be translated into electrical energy and contained in this fixed machine? Would this not be a generator?
Let's flip it around again. Could not a flying version of T. T. Brown's charged capacitor have gotten charged via decay of radioactive material with accompanying hardware similar to what has been described above?
One more point should be made concerning the possible relationship between atomic energy and field propulsion. We doknow that electromagnetic radiation can be generated by atomicfission or fusion. This is done whenever nuclear weapons are detonated. It is called an electromagnetic pulse. This is a well-recognized phenomena and the military's communications and sensitive electronics have to be "hardened" against this electromagnetic pulse as a battlefield necessity. So the relationship between electromagnetic and atomic energy does exist. The question still remains as to a technological breakthrough in the application of this phenomena and to whether the Germans pioneered this effort involving flying craft.
Atomic/Field Propulsion Sources
United States Patent, Patent Number 5,443,857, August 22

,

1995, granted to Howard C. Rivenburg, "Power Source Using

A

Photovoltaic Array And Self-Luminous Microspheres"

.

United States Patent, Patent Number 5,642,014, June 24, 1997, granted to Steven J. Hillinlus, assigned to Lucent Technologies, Inc., "Self-Powered Device".

United States Patent, Patent Number 4,835,433, May 30, 1989, granted to Paul M. Brown, assigned to Nucll, Inc., "Apparatus For Direct Conversion Of Radioactive Decay Energy To Electrical Energy".

Lifetime Batteries, 13A and 13B, contained in catalog of Energy Research Company, P.O. Box 1514, Jackson, CA. 95642
171
Freeman, Gordon Dr., personal letter to author dated 3/7/02

United States Patent, Patent Number 3,949,178, April 6, 1976, granted to Sten Hellstroem and Rolf Bertil Goeran Joenson, assigned to Telefonaktiebolaget L M Ericsson

Bundersarkiv, Postfach 450569, 12175 Berlin, file on Dr. W.

0.

Schumann, courtesy of Mark D. Kneipp.

Foreign Scientists Case Files, 1945-58 "Winfreid Otto Schumann", Location Box 151,631/26/01/07, The National Archives, 8601 Adelphi Rd., College Park, Maryland 20740, Courtesy of Mark Kneipp

British Intelligence Objectives Sub-Committee Final Report Number 1043, item number 31, "The Invention of Hans Coler, Relating To an Alleged New Source of Power", Bryanston Square, London
The Karl Schappeller Device
Was the Schappeller device an engine used in German field propulsion saucers? This is a possibility. Because so little has been reported about this device in the English language, the following is a report describing Karl Schappeller and his device in some detail.
Karl Schappeller (1875-1947) literally went from being born in poor house to owning a castle during his lifetime. His economic success was mirrored in his experiments in energy as a layscientist, culminating in the invention of a free-energy device which attracted considerable attention around 1930. Schappeller made no secret of his invention and actively sought privatefinancing to manufacture and distribute the results of his research. He was in touch with financial concerns and even spoke with a representative of the British Admiralty concerning the utilization of his device to power the Royal Navy's ships (1).
At this time, 1930, the device was somehow appropriated and further worked upon by a governmental organization of the German Weimar Republic, the Reichsarbeitsgemeinschaft or Reich Works Association (RAG). At least one aim of the RAG was to make Germany self-sufficient in energy production. Specifically, they published their intentions to utilize many Schappeller devices in a system of broadcast energy distribution throughout Germany which would result in the entire elimination of the electrical grid (2). As we know, Adolf Hitler assumed power three years later and was also very interested in making Germany independent of foreign sources of energy for strategic reasons. It is known that political and scientific structure was set up to work on the energy problem as evidenced later by the synthesizing of gasoline and oil products from coal by the 3rd Reich. One of these
172
Schappeller
Left: Inventor Karl Schappeller Right: Karl Schappeller'sDevice. A. Steel outer casing. B. Special ceramic lining in which tubes are embedded. C. Hollow center, filled by glowing magnetism when in operation. D. Tubes, circuit and earthling.
political and scientific structures was contained within the SS and it is known that Karl Schappeller actually met with SS Reichsfueher Heinrich Himmler in Vienna in 1933 (3).
Fortunately, there are good descriptions of the Schappeller device in both German and English languages upon which to draw. Per Vril-Mythos is a complete discussion of Schappeller, hisdevice, the history and the controversy surrounding it. "Vril" Die Kosmische Urkraft Wiedergeburt von Atlantis and Weltdynamismus Streifzuege durch technisches Neuland an Hand von biologischen Symbolen represent an attempt by the RAG to popularize their ideas in booklet form. Finally, British electrical and mechanical engineer, Cyril W. Davson, visited Karl Schappeller in Austria and spent three years learning of his device and his theory before the Second World War. Davson's descriptive book, The Physics of the Primary State of Matter, was written in 1955, after the war and the death of Schappeller.
Before describing the device itself it should be understood that Schappeller and all writing about his device do so believing that the energy-source being tapped is ether energy, sometimes called "Raumkraft" or "Raumenergie", that is space energy (4)(5)(6). This device was also said capable, perhaps with some tuning, of emitting ether as a radiant energy (7). The physics of ether energy is described by Davson as a primary physics as opposed to conventional physics which he believed could only be considered a secondary, derivative understanding.
Ether Theory
For readers who have never heard of "ether", perhaps the simplest explanation for ether physics is that of the late Dr. Hans A. Nieper (7) titled Revolution in Technology, Medicine and Society. Ether could be thought of as an energy source emanating from everywhere equally at once. The universe could be considered, as often said, "a sea of energy". It forms a background of energy everywhere, and since it is everywhere all the time, it is difficult make independent measurement of it. This ether energy is in constant motion. All energy is radiant energy, according to this theory. This can easily be appreciated as to electromagnetic radiation but it is also true of that very elusive thing called gravity. Newton described the effects of gravity but he never told us exactly what it was. Dr. Nieper tells us that gravity is really a push, not a pull. Gravity is acceleration and is caused by the ether field. Again, all energy is radiant energy whose fundamental basis is ether radiation.
From the aforementioned book by Dr. Nieper:
"In addition, Nieper established the axiom that all naturalaccelerations can be attributed to a single unified basic principle, namely, the interception (or braking) of a field energy penetrating from the outside (gravity acceleration, magnetic, electromagnetic, electrostatic and radiesthesic
174
acceleration). "
In trying to explain ether, it might be thought of as an all pervasive liquid occupying all of space. This liquid concept is useful because a liquid can not be compressed but can only transfer the energy attempting to compress it from one location to another. This is how an automobile's brakes work. The driver pushes in the break pedal when he wants to stop. The plunger of the break pedal attempts to compress fluid in the master cylinder. The master cylinder is connected by metal tubes full of fluid to each wheel. When force is put on the master cylinder by the driver it is transmitted to each of the four wheel cylinders full of the same fluid which transmit the force, moving the break shoes or stopping the disc which stops the wheels of the car.
Likewise, ether serves to transmit energy through this "non- compressibility" quality. In a primary electric coil andsecondary electric coil, for instance, induction in the secondary does not take place directly from the primary as is new held by physics, but though and between the two via the ether field. This concept, that of the stimulation of the ether field as means of energy transport, is also expressed by Davson.
Using this perspective, that all energy is radiation, the braking of ether radiation, that is the slowing down or stopping of this radiation, can cause or generate other forms of energy. This word "energy" means the entire electromagnetic spectrum. This means electric, magnetic and electrostatic fields. This means heat. This also means gravity. Again, gravity is the primary radiation of the ether field. It radiates from every point in the universe equally.
This concept seems ridiculous until it is given some thought-One might ask: How can gravity be a push when we know better? After all, things fall to earth don't they? The answer is that the effects we feel and call gravity are due to gravity shielding. Ether radiation can be braked, that is slowed down and absorbed by mass. It is then re-radiated or turned into mass. It is re-emitted as slower ether radiation or even as heat. Some of it can is converted into mass inside a planet. If there is a loss of ether radiation, then there is shielding. Thus, a planet would shield from this radiation in one direction. That direction is always toward its center which is the direction of greatest mass and that is what we describe as "down". This is simply the area which contains the maximum amount of shielding.In all other directions the ether radiation continues to exert its push on us. The area of minimum shielding is directlyopposite the area of maximum shielding, so things fall (or morecorrectly are accelerated or "pushed") to earth.
Think about this for a minute. Being in deep space is a little like being underwater. Underwater, all pressure from all points are so similar that we feel weightless. We are weightless in
175
deep space because the ether field exerts a push on us from all directions equally. In space, the nearer one gets to a large body the stronger the push is from the opposite direction since the body shields or converts the ether radiation. The result of this thinking is a mechanism totally different from "gravity" as we know it but appearing as exactly the same observed phenomena.
The beauty of this ether theory of gravity is that gravity functions like every other form of radiation. Its underlying cause, ether radiation, can be converted to mass or, in certain circumstances, re-radiated or converted to other forms of energy. No Unified Field Theory is necessary. The ether field is theunified field. Further, there is no need to look for somethingseparate called "anti-gravity". If gravity is a push then it is all anti-gravity. All we have to do to make a UFO is to find this particular gravity frequency and find out how to generateit.
Ether physics was a lost physics. Physics was hijacked early in the 20th Century by alleged results of the Michelson-Morley experiment. The Michelson-Morley experiment assumed "ether" was matter. There is some confusion here. We know now that particles moving near the speed of light are measured as waves, that is energy, rather than as matter. Nevertheless, ether theory has been discredited among physicists who, in turn, discredit others who raise the subject. It is only through the efforts of "free energy devices" and free energy researchers that this knowledge is being returned to us. Without this ether theory, the reason these devices work cannot be explained at all. Rejection of ether theory allows these devices to be dismissed as "theoretically impossible" and so fraudulent by simple deduction. They are marginalized and dismissed as "perpetual motiondevices". According to established physics, perpetual motion devices violate physical laws of conservation of energy. Without an ether theory as an explanation, they do violate laws of conservation of energy and so their detractors are able to simply dismiss them out of hand. The simple fact that some of these free energy devices actually work does not seem to bother these scientists in the least. Rather than change the theory to accommodate the observed facts, the facts are ignored and substituted by dogma. Whether we like it or not, we are living in an energy Dark Age.
Instead of ether theory, we have all been led to focus upon Einstein and his Theories of Relativity. Two or three generations of scientists have wasted themselves on "trying toprove Einstein right". This misguided thinking has resulted in stagnation. One need go no further than the many "free energy" devices which have arisen to the level of notice in spite of accepted scientific theory to see that this statement is true.
Needless to say, German scientists of the Nazi period labored under no such illusions. They never abandoned ether physics. This was the fundamental reason why field propulsion UFOs were
176
first developed in Germany. After the Second World War two different sciences developed called "Physics". One was the relativism taught in schools. The second more esoteric type was utilized only secretly, by the secret government, for deep black projects.
Structure of the Schappeller Device
According to Davson's description upon which we will rely, the Schappeller device is really composed of two separate units, the rotor and the stator. The stator is constructed as follows: Its surface is round or ball-shaped, being composed of two halfshells of steel. These half-shells contain the internal structure and are air tight. Attached at each "pole" of each half-shell is an iron bar magnet, most of whose structure is internal. This means that the bulk of the magnet is inside thesteel ball, one opposite the other. There is a space between the two bar magnets at the very center of the sphere.
Insulation, a ceramic material, is placed on the inside of the steel ball leaving a hollow central area. Within this hollow area and around the space between the magnets are wound two internal coils. These originate at the bar magnet poles and each terminates at the center of the sphere with a connection leading out of the sphere to the rotor. These coils are composed of a hollow copper tube filled with a special and secret substancecalled the "electret". Upon leaving the sphere the electret filled copper tubes are replaced by conventional copper wire. An electrical connection is made from the outside surface of one pole to one pole of a special type of battery which is grounded at the other pole or, as an alternative, to a special device called an "Ur-machine" which will be discussed.
This electret is a permanent magnet within the sphere. This type of magnetism is not identical with ferro-magnetism or electromagnetism, it is much stronger (8). The actual composition of Schappeller's electret remains a secret but another electret has been made by Professor Mototaro Eguchi. It consists of carnauba wax and resin, perhaps also containing some beeswax. It was kept in a strong electric field while baking slowly until it solidified. For purposes of production of Schappeller spheres, a complete electret manufacturing plant would have to be set up which had no parallel in present science (9).
Before being set into operation, all the air is pumped from the hollow core of the sphere. This whole ball is mounted on aswivel mechanism so that the poles can be moved from the vertical to the horizontal. The stator is completely unattached from therotor. The stator can function without the rotor and the stator is capable of producing electrical energy without the rotor. The rotor could also be used to generate additional electrical energy.
The rotor consists of: A steel wheel of special design fixed on
177
the shaft to be driven and surrounded on its outer surface by magnets which are attracted and repelled by the force of the stator. The copper wire attached to the internal copper tubing filled with electret runs through this wheel and supplies electric power to the magnets. The magnets are hollow and filled with the same electret. There are always an odd number ofmagnets.
A variant of this rotor comes to us from Taeufer, who refers to this further development as the "Ur-Machine". This machine is composed of six sphere units as described above, five revolvingaround a sixth set above or below the plane of the otherrevolving spheres. A seventh unit would be employed to rotate the rotating five spheres and so would be offset, and not attached to the others. The five rotating spheres would chargethe sixth stationary sphere. The sixth and seventh spheres would function as an anode and cathode and so ground the unit. The Ur-machine could be used to activate other spheres instead of a battery-earthing procedure (10).
As a prime mover, an engine, the rotor would be employed turning a driven shaft. The stator would be offset, that is, moved off center in relation to the rotor. Schappeller worked out various angles of efficiency (11). The driven shaft could be used to power any number of machine applications such as, for instance, the propellers of a ship.
Means of Operation
The device is started through totally unique battery and a connection to the earth (12). A specific excitation impulse must be given to the device (13). This electric impulse was conducted through the iron magnet and jumped the gap in the center of the sphere to the other iron magnet.
What occurred then sets this device apart from all others. In the vacuum of the sphere, in the center space between the two bar magnets a field of "glowing magnetism" was set up. This glowing magnetism was something entirely unique. It is recognized as a magnetic field but much more powerful and unlike any magneticfield of an iron bar or an electric coil. Once the initial input had been made to start the device, the battery and ground could be disconnected. The device would continue of operate on its own (14).
For an understanding of what is really happening here we have to consider the bar magnet. We think of a bar of iron with two poles, one positive and one negative or perhaps one north and one south pole. But there are really three components to the bar magnet. There are the two poles and the neutral zone between the poles If we cut the magnet in half we get two new poles. For the Schappeller this neutral area is very important. Imagine a bar magnet running through the vertical axis of the ball. Then imagine the center section cut out. We now have a north pole at
178
the top of the ball, a south pole at the bottom of the ball just as we do with the planet Earth. In the center we have a missing section with a south pole, opposing the north pole at the top of the ball and, likewise, a north pole opposite the south pole at the bottom of the ball. We have now four poles and a split bar magnet with a gap in its center section.
It is this gap in the center where Schappeller's "glowing magnetism" is generated by grounding, that is, charging the device via a special battery and an earth connection. This glowing magnetism is the mystery. Davson cites Schappeller's calculations and gives this form of magnetism as being one thousand times more powerful than that produced by present magnetism (15). He also states that in this form of magnetism the electricity is stationary while the magnetism is radiated (16).
To repeat again, Davson contends throughout his book that this glowing magnetism is not found in secondary physics, that is, in modern physics, and that this glowing magnetism is a manifestation of primary physics. As a phenomenon of primary physics, it is responsible for and can generate heat, electricity and magnetism.
After initial stimulation and in a state of glowing magnetism, no further input of energy is needed from the battery. The device is able to draw in energy to it directly from the surrounding ether, bind this energy though its magnetic electret material, that is the filling in the hollow copper coils of the internal coil, and then re-radiate energy producing heat, electricity, magnetism or mechanical work depending upon the application.
Stated another way, this is an implosion device and it is described as such (17) (18). Unlike the Schauberger device which is associated with the word implosion, the Schappeller device operates purely at the energetic level. Energy is drawn towards the center, through the magnets, into the field of glowing magnetism, and then radiated outward.
My first explanation for this output of radiant energy involves the concept of the Bloch Wall. A Bloch Wall is defined by Van Norstrand's Scientific Encyclopedia, 1958 edition, pages 201 and 202, as follows:
"This is a transition layer between adjacent ferromagnetic domains magnetized in different directions. The wall has a finite thickness of a few hundred lattice constants, as it isenergetically preferable for the spin directions to change slowlyfrom one orientation to another, going through the wall ratherthan to have an abrupt discontinuity" (18).
In electromagnetics the Bloch Wall is external to the hardware itself. It is the point of division of the circling vortex, or spin, of the electronic magnetic energies of the north and south
179
Bloch Wall And Oscillating Circuit
Top: Bloch Wall, a gravity wave source as a function of the electromagnetic spectrum? (Dr. Richard LeFors Clark) Bottom: Oscillating circuit. Charged capacitor (electric field) discharges, current carried through insulated wire to charge coil (magnetic field) which discharges, charging capacitor. Oscillating electric and magnetic fields yield electromagnetic waves.
poles. The negative north pole magnetism spins to the left while the positive south pole spins to the right. Energy is being conducted into the Schappeller device through the un-insulated poles and being conducted and spun on its way to the center of the unit. The point of zero magnetism, no spin and magnetic reversal, where the two spin fields join, is the Bloch Wall (19).
The Block Wall radiates energy. Remember, if energy is coming in then it must be going out. The Bloch Wall may generate radio, radar and other electromagnet frequencies but what is most interesting is that it is actually able to radiate gravity as according to Dr. Richard Lefores Clark. According to this interpretation, the conjunction of two dipolar generated forcefield vectors, a quadropole force field or gravity is generated according to Dr. Clark. Gravity being a quadropole source, radiates in a circular, 360 degree, pattern of two cycles. Dr. Clark has fixed the point of emission as below that of radar and above infrared at 10 to the twelfth power Hertz (20). Dr. Richard Lefors Clark believes gravity is a radiation (21) and so a "push".
Another Opinion
In late 2001, I wrote a magazine article on the Schappeller device (22) which contained most of the material described above. In that article a request for alternative explanations for the Schappeller device was made. I received a letter from Mr. Michael Watson, BSc, Charted Physicist and Member of the Institute of Physics in the United Kingdom. But there was something in Mr. Watson's background even more impressive than his professional credentials. Cyril W. Davson was a family friend whom Mr. Watson knew well in his youth and with whom he had discussed Schappeller and his ideas at length, many times. In Mr. Watson's letter was a brief summary of Schappeller's theory in which he cut through most of the confusing terminology.
This summary is important for a couple of reasons. Mr. Watson's summary of Schappeller's ether theory as described by Davsondovetails nicely into the ideas of Schauberger yet seems to allow for Tesla's experimental results on ether as explained by Bill Lyne. The following is what I learned from Mr. Watson's letter:
Most of us have heard of the two Thermodynamic Laws. These are laws of heat. The First Law of Thermodynamics states that energy is conserved, meaning that the total amount of energy in the universe always remains the same. This is no surprise for most of us and it is not the real concern here.
What is of concern is the Second Law of Thermodynamics which discusses heat and entropy. The word entropy might be thought of as a state of randomness or chaos. Negative entropy would then mean movement toward the less random or the more ordered in any particular thing. If we apply this to a system, then entropy tends to increase until the system breaks down in utter chaos
181
This will occur unless the system is re-charged with additional outside energy. A concrete example is less confusing.
Imagine a new automobile just coming off the assembly line. Ithas taken a great deal of energy to find, refine, forge, weld,and paint the metal parts of this car alone. This same conceptalso applies to all the other components of the car. This energy and organization constitute a highly organized state, or, said another way, a state of negative entropy.
What happens next illustrates entropy. The car is purchased.Whether it is driven hard or just sits in the garage does not matter in the long run because what happens to the car is that it starts to fall apart. This change may be small at first and may only occur at the molecular level, but it occurs nevertheless.The engine, transmission, paint, rubber, electronics, etc. all will fail with time. Even it the car just sits in the garage, in a thousand years the metal will eventually oxidize. Finally, the car rusts away forming a reddish brown heap. This is exactly the opposite of the organization and energy used to put the cartogether. This disorganization is entropy. The only thing which will reverse this, as we all know, are additional inputs of energy by the owner in the form of maintenance and repairs.
All things in a relative state of relative order move toward astate of disorder. In terms of heat, heat will always flow intoa colder place from a warmer place. When something is heated there is a rise in its entropy. With increasing heat its molecules move faster and faster in random chaos as a bomb does when it explodes. Increasing heat means increasing randomness and chaos which is entropy. Cold, then, can be seen in terms of negative entropy. Any cold object is simply more organized and less random than the same object once it is heated.
Schappeller had something to say about the Second Law ofThermodynamics. He said there was another and unknown thermodynamic cycle which runs opposite the Second Law. To name this idea we will call it "Reverse Thermodynamics". It is thereverse of the Second Law of Thermodynamics in that it leads to an increase in entropy. Not only is there an increase in order but there is an increase in cold! Schappeller, according to Mr. Watson's letter, built his spherical device primarily to demonstrate the principles behind this Reverse Thermodynamics.It was not designed as a practical machine.
To demonstrate the difference between the Second Law of Thermodynamics and Reverse Thermodynamics two theoretical machines shall be examined. Actually, a machine running according to the Second Law of Thermodynamics is not theoretical at all. Combustion machines are of this type. For simplicity sake we will use a wood burning stove such as the type invented by Benjamin Franklin for the heating of a house.
Wood is put in a hollow iron vessel with an adjustable hole at
182
one end. The adjustable hole admits atmospheric oxygen. An initial small input of heat is added to the wood and oxygen until burning occurs. A great deal of heat is produced once the wood begins to burn. We know heat expands. Carbon, carbon dioxide and water vapor are also produced as byproducts of the combustion. Entropy is increased. Since entropy is increased, so is pollution so perhaps we all can agree that this is a good example of the destructive technology so characteristic of the world in which we live.
In our example of a theoretical Reverse Thermodynamic machine the byproducts of the previous example can be used as fuel. But Schappeller's machine has the additional property of being creative, that is, negatively entropic. Schappeller believed this creative process to be individualistic, so we need a specific template to use as a pattern for this creation. Heat, water, and carbon dioxide are imputed into this machine. Quite amazingly, oxygen is yielded as a byproduct of this reaction! The heat is also absorbed in Schappeller's Reverse Thermodynamic machine! This absorption of heat is another way of saying that the machine is implosive in nature rather than expansive or explosive as was the heat producing machine. What is mostamazing, however, is that entropy is actually reduced yielding, something which has been created -wood!
Actually, this machine is not theoretical either. It exists and works as we speak. These machines are all around us. We call these machine "life". In this case our machine is a tree. In the tree, energy, sunlight, is absorbed and combined in a cold process with water and carbon dioxide to form wood. The template used as a pattern for this seemingly intelligent, creative,process is simply a seed. In this type of reaction the "cold"force is something other than the absence of heat. This cold is an active cold. It is a "densifying", implosive cold. It is a life-giving cold. This is a cold, life giving force. To quote Watson:
"This process is life force and the reverse of the second law of thermodynamics; it is the vital force: Vril."
This is one huge difference between the physics of Schappeller and Schauberger and the physics of the Nineteenth Century. Thephysics of the Nineteenth Century explain everything in terms of the inanimate. Laws of physics are written using inanimate examples. Chemical reactions are described which stem from inanimate models. Animate models are simply made to conform with the inanimate assuming that life is just a special case which eventually will be shown to be nothing but chemistry and so subject to the same Second Thermodynamic Law as the inanimate. Schappeller and Schauberger both say in their own ways that this is not so. They say, each in their own ways, that a new and different law of thermodynamics applies to living forces. They say that this more akin to a life process than previous theories allow. They say this force is creative. Those that subscribed
183
to these new ideas claim it was not only a new physical law but a new science and that Germany would lead the way to this new science. Let us take a closer look at what is claimed to be the physics behind this new science.
The first concept to be considered is cold. Cold in this sense does not mean the mere absence of heat. This is interstellar cold, the cold found in the vacuum of space. In this relativevacuum, matter is not found in sufficient quantity to use tomeasure this cold. Think about how we measure cold. We measure matter which is cold. We measure the heat in air or water for instance. In the absence of matter how would cold be measured? There is no doubt that if we could, for instance, place a thermometer in a glass of water in deep space, the temperature recorded would be at or very near absolute zero, 0 Kelvin or -273 degrees Centigrade or -460 degrees Fahrenheit.
The presence or absence of matter in deep space may be the subject of conjecture. The presence or absence of energy in deep space is something universally accepted. For instance, we all know that light passes through interstellar space. We see the proof when we look up at the stars, planets or the moon. Besides visible light, other electromagnetic radiations freely pass through space. These include x-ray, gamma and cosmic rays. Yet besides electromagnetic radiation many people now believe that in the depths of space there resides another form of energy with is found there as well as everywhere else all around us. This energy sometime goes by the name of "zero point energy" but for our purposes we can simply call it "ether energy". It is sometimes argued that this energy is really the result of ether rather than ether itself and that ether really is matter. For a moment, let us postpone this discussion and focus on the vast, stretches of interstellar space which are filled with ether energy, near or at absolute zero.
Mr. Watson points out Dawson's words on page 83 of The Physics Of The Primary State Of Matter where he says:
"Cold is not therefore the absence of heat, primary heat and
cold having nothing to do with molecular action (in the
cosmos) there are no molecules available".
The reader may recall that something strange happens to electrical energy at absolute zero. For instance, if a disc of conducting material is held at absolute zero and the disc is given an electric charge, the electric current will circulate around and around the disc forever, never loosing its energy asit would if the disc were sitting on an office desk at room temperature. This property of cold is instrumental in the storage of at least one form of energy. The vast stretches of cold interstellar vacuum must be seen as a vast energy storage sea in a state of heightened negative entropy. Schappeller called this undirected matter-energy reserve potential "latent magnetism.
184
Out of this latent magnetism, both energy and matter could be produced with the corresponding stimulation. The non-excited electromagnetic field was viewed by Schappeller as simply latent magnetism. Matter is a condensation out of bipolar ether. Therefore, electromagnetism is a product of matter and is nothingmore than bipolar ether in a different condition. Latentmagnetism could be, then, excited into matter. Latent magnetism could be influenced by either of the thermodynamic principles discussed, the Second Law of Thermodynamics or by Reverse Thermodynamics. This vast ether field, whose most notable characteristic is the property of cold, latent and awaiting stimulus, is the progenitor of both energy, as we know it, and of matter.
Since primary cold, this vast reserve of negative entropy potential, is responsible for both matter and energy and since all energy eventually degenerates into heat, it follows that, as navson puts it, again on page 83:
"Primary heat, as may now be understood, is composed of cold energy".
This is seems like a surprising play on words, especially from a man of science, but this statement follows perfectly from Schappeller's reasoning nevertheless.
We turn now to Schappeller's concept of "stress". Both heat stress and cold stress can be applied to an electromagnetic field. Heat stress is the usual type of stress applied to electromagnetic fields in secondary physics. Secondary physics is the physics of our everyday world according to Schappeller.Primary physics is the physics dealing with the cold force and ether yielding matter and energy, which constitute the secondary reactions and so Schappeller uses the term "secondary physics" to describe our world as we know it.
An example of heat stressing of the electromagnetic field is the condenser and the coil. A charged condenser results in an electric field and a charged coil results in a magnetic field. A charged condenser and coil, connected by a wire producing
circuit alternately charge and discharge each other,electromagnetic radiation unit the heat caused by the resistance of the wire degrades the whole process into heat. Heat stress on the electromagnetism is +/-.
Cold stress on the electromagnetic field is something totally new to our science and technology. It is also seen in terms of +/but the machines used to produce it are not known in our world. Mr. Watson did not say this but if we return to our examples of heat stressed machines, the condemnor and the coil, the corresponding cold stressed machines might be the Schappeller sphere and the Schappeller coil electret. The sphere collects the charge through the magnets, holds and condenses it in its glowing center corresponding to the electric field of the
185
condenser. The internal coils filled with electret produce a magnetic field in the presence of the intense and pulsing electric field. According to my interpretation, the whole Schappeller sphere is a combined condenser/coil combined into one machine made possible through an initial input of cold stress.
As in our example of the condenser/coil interaction producing an electromagnetic wave, so an attraction exists between a machine obeying the Second Law of Thermodynamics and one obeying the law of Reverse Thermodynamics. This attraction can lead to interaction. For instance, an imploding or centripetal vortex can couple with an exploding or centrifugal vortex. Thecentripetal vortex is an example of a system following the law of Reverse Thermodynamics while the centrifugal vortex represents a system following the Second Law of Thermodynamics. We have all seen these two systems working together in everyday life. Thecommon toilet is such a machine although the centrifugal sideforms inside the drain pipe which is out of sight.
Perhaps there is another example which is more germane to our discussion. It is the diagram of the Vril power plant. (This engine diagram is used here as an example for discussion and is not a blind endorsement of the diagram's existence or accuracy.) In this interpretation of this diagram, we are really dealing with two separate devices. First, is the central spherical device which may be a refined version of the Schappeller sphere. An initial charge would be imputed into the sphere to start it after which the unit would continue to gather up the surrounding energy. This is a Reverse Thermodynamic machine. The sphere generates a magnetic field which could be offset by rotating as in the Schappeller device. The offset field would feed and so rotate the arms of the electric generator surrounding the sphere. The electric generator would gather electric energy, feeding the four large broadcasting fixtures on the walls of the saucer. These fixtures might be, for instance, Tesla pancake coils. The electric generator is an example of a machine complying with the Second Thermodynamic Law.
Both components of the power plant are bonded together in a single system since the output energy of the broadcasting fixtures on the walls of the saucer constitute additional input energy for the sphere. The two components attract one another and use and depend upon one another as they circulate and recirculate energy. As the energy level of one componentincreases so does the energy level of the other. Indeed, the biggest problem facing the use of such an engine may be employing a means to stop it.
The actual levitation might be the particular electromagnetic radiation coming out of the sphere. In this interpretation, the broadcast fixtures are used to steer the saucer. Davson givesoutput frequencies for the sphere as 10 to the sixth power (22).
Mr. Watson points out in his letter that one reason machines
186
utilizing the Reverse Thermodynamic principle have not been recognized is that a cold stressed magnetic field is a cold machine. Even a centripetal vortex cools rather than heats. All our devices of measurement ultimately measure heat in some form. Measurement of cold is more difficult. The example already given, the problem of measuring temperature in interstellar space in the absence of matter is an example of this problem.
Finally, the reader will recall that Mr. Watson points out that electromagnetism manifests itself bipolarity, yielding four components in all. These are +/- hot electromagnetism and +/cold electromagnetism. The reader will recall that two hot electromagnetic components can be joined (the condenser and the coil) and set into a cycle producing an electromagnetic wave. Is it possible that two complementary hot electromagnetic and cold electromagnetic machines could be set into cycle producing not a bi-polar but a quadropolar, 360 degree radiation, such as the one described by Dr. Richard Lefores Clark, to produce gravity?
Planned Uses For The Schappeller Device
If the above discussion has any meaning at all in the quest for an answer to the UFO question, one use for which the Schappeller device must have been destined was that of a power plant for a flying machine. Was this so? The Schappeller device had manyplanned uses. In 1930 this device was planned as a source of broadcast energy, reminiscent of Tesla, for both German homes and industry. The device could also be used as a generator, battery, transformer, or antenna (23). It is reported that toward the end of the war the SS researched the possibility of using this device in the form of a death ray (24). But additionally, and in answer to our question, the Schappeller device was envisioned as alevitation device for a flying machine. Here is some of that discussion from our sources:
"The new dynamic technology will, in the future, be able to drive electric locomotives and automobiles without the manufacture of costly armatures and everywhere through connection to the atmospheric voltage network. Hypothetically, is certainly the installation of a sufficient number of central amplification facilities which transports from the Ur-Machine the specificmagnetic impulse from the dynamic spherical element. New types of aircraft with magneto-static power devices and steering, which are completely crash and collision proof, could be built for afraction of the cost of today's aircraft—and without the lengthy training of everyone who will be servicing these aircraft".
From "Vril" Die Kosmische Urkraft Wiedergeburt von Atlantis by Johannes Taeufer, page 48.
"Our problem must be to drive toward the space ship problem to new understanding of a realization! Here a definite postulate can be established: "Spherical space ship with its own atmosphere—also technical creation of small planets with world
187
dynamic propulsion and buoyancy!".
Will this be possible?---
Major powers in the world prepare themselves in any case presently, especially in Germany."
The above from Weltdynamismus Streifzuege durch technisches Neuland an Hand von biologischen Symbolen. pages 11 and 12. Please note the use of the words "spherical space ship"(Kugelraumschiff).
From Davson in The Physics Of The Primary State Of Matter, page 240:
"The Rotor is laminated to prevent eddying and the magnets do not project; the Rotor periphery is thus entirely equiradial. The Rotor is fixed to the shaft to be driven and the Stator is fixed about a metre above the earth's surface. The latter is, of course, flexible because the earth can include the sea or even the floor of an ether-ship."
From Davson, page 199:
"As has already been explained, the new Technique will not concern itself with the air as a supporting medium, but directly with the ether. Therefore, the body may be a vertical sealed cylinder with conic ends or any other suitable form. Such a body is obviously rigid and inelastic, and it must contain an ether stress of sufficient intensity to support its mass against theether stress of the earth's stressfield, which means that theglowing magnetism core in the Stator, provided in the body to be lifted, must be able to vary its intensity according to the height at which the ether-ship is to be raised and supported whilst in transit, as the ether stress or field, itself, varies inversely as the square of the distance from the earth's surface. The actual design and solution of all the various problems in the production of such ships, the choice of methods of propulsion,whether independent or directional, belong to the new Technique, whereas here we are only interested in the principle as applied to the problem of Gravitation."
Finally, from Davson, page 177:
"Now the reason that an unsupported body falls to the ground is primarily because it has "no hold" on the medium. It was previously explained that any inert mass or body has only a latent stressfield which functions merely as the force of cohesion and has no mobility and thus only a latent internal stressfield and no external stressfield. This means that it has no "hold" on any elastic medium such as the ether or the air, therefore it must fall, and it falls towards the greater inductive energy.
188
If the inductive energy, through some exterior cause, could be made suddenly to increase enormously, there would come a point when the body would be supported, or rather suspended, before it reached the earth's surface.
The new Technique could accomplish this by placing a Schappeller Stator in the body in question, where the body issuitably constructed, thus setting up a glowing magnetic stressfield which would hold or keep the weight or mass of theunit body suspended, not in the air—the stressfield would have no reaction on the air—but only on the earth's magnetic stressfield.
This is the basis of the new principle for "ether ships""
Employing the Schappeller mechanism is only half the total explanation. In a field propulsion saucer there are possible two types of "drive" needed. The first is the "Auftrieb" or levitation. Employment of levitation makes the craft buoyant. It weighs nothing. If it weighs nothing it can be moved veryeasily. "Antrieb", impulse or motive power is the second driveinvolved. It moves the craft directionally. Levitation only would be supplied by the Schappeller system. Directional movement is so far best explained, in my mind, using the Tesla pancake coils as explained by Bill Lyne.
Concluding Thoughts on the Schappeller Device
In the end, what can be said of the Schappeller device? certainly, it did exist. It drew attention and funding from people within the German government of the time. It was studied by a qualified outsider, a British engineer, for a period of three years and was judged to be genuine.
There are some obvious problems, however. Exotic energies havebeen evoked which have not been explained satisfactorily. Therefore, the facts are not in evidence yet. Certainly more proof is required before the claims made for this device or theenergies involved can be wholly accepted. For the time being we must put this discussion aside, awaiting further correlations.
There are some solutions connected with this device also. If we accept the idea that both the Schauberger and the Schappellerdevices worked on the theory of implosion, then one explanationwill serve to explain them both. It also allows for an ether-as- matter explanation. This may fit into the evidence gathered byNikola Tesla. The commonality of these devices could then besought and perhaps a more efficient device built as a result. We will pick up this theme again in the discussion section of thisbook.
It should be pointed out that the quest for this "new science" is not specific to Schappeller or Schauberger. Mr. Watson passed on
189
these words from Ehrenfried Pfeiffer, a scientist who collaborated with Dr. Rudolf Steiner around 1920. Although he is not happy with the translation he sent it as he found it which is as it is presented here:
"...the method of science, in a materialistic sense, is based on analysis splitting apart, disintegration, separation, dissecting and all the procedures which have to destroy and take apart, to work on the corpse rather than to grow, to develop, to synthesize. That the human mind was captured by these methods of braking apart: in that I saw the source of our present situation. My question therefore was: (to Rudolf Steiner) is it possible to find another force or energy in nature, with does not have in itself the ductus of atomizing and analysis but builds up, synthesizes. Would we discover that constructive force, whichmakes things alive and grow, develop adequate building up of methods investigation, eventually use this force for another type of technic, applied to drive machines, than because of the inner nature of this force or energy we might be able to create another technology, social structure, constructive thinking of man rather than destructive thinking. This force must have the impulse of life, of organization within itself as the so-called physical energies have the splitting, separating trend within themselves.
My question to Rudolf Steiner October 1920 and spring 1921 therefore was: does such a force or source of energy exist? Can it be demonstrated? Could an altruistic technic be build upon it?".
My questions were answered as follows: "Yes, such a force exists, but is not yet discovered. It is what is generally known the aether (not the physical ether) but the force which makes things grow, lives for instance in the seed as Samenkraft. Before you can work with this force you must demonstrate its presence. As we have reagents in chemistry, so you must find a reagent for the aetheric force. It is also called formative aetheric force because it is the force which relates the form, shape, pattern of a living thing, growth. You might try crystallization processes to which organic substrata are added. It is possible then to develop machines, which react upon and are driven by this force. Rudolf Steiner than outlined the principles of the application of this force as source of a new energy..."
Since this quest for a new science with the accompanying new machines had a relatively long history in Germany, certainly pre- dating the 3rd Reich, it is almost certain that the Schappeller device or others built along a similar understanding were further developed during the Nazi period. What became of it after the war is unknown. It can be assumed that this device did not escape the scrutiny of the numerous Allied intelligence units tasked with combing Germany for examples of German science. Perhaps someday a government report will be de-classified explaining all this as it was in the case of another free-energy machine, that being the Hans Coler device, which was declassified
190
by the British in 1978 (25) and which worked, according to Mr. Watson, using the same principles of cold magnetism. Until that final reckoning comes aspects of the Schappeller device will still remain a mystery. And until a more final reckoning comes, the question of if the Schappeller device was used as a source of field propulsion in German flying saucers must be deferred.
The Karl Schappeller Device
Sources and References
1. Bahn, Peter, Ph.D. and Heiner Gehring, 1997, pages 120-131, Per Vril-Mythos Eine geheimnisvolle Energieform in Esoterik, Technik und Therapie, Omega Verlag, Duesseldorf
2. Taeufer, Johannes, 1930, page 31."Vril" Die Kosmische Urkraft Wiedergeburt von Atlantis, commissioned and distributed by the Reichsarbeitsgemeinschaft "Das kommendende Deutschland", Astrologischer Verlag Wilhelm Becker, Berlin
steglitz
Bahn/Gehring, 1997, page 131

ibid, pages 120-124, 130

5.

Weltdynamismus Streifzuege durch technisches Neuland an Hand von bioloaischen SYmbolen, 1930. pages 14-15, commissioned and distributed by the Reichsarbeitsgemeinschaft "Das kommendende Deutschland", Otto Wilhelm Barth Verlag, Berlin

Davson, Cyril W., 1955, pages 50-59, The Physics Of The Primary State Of Matter And Application Through the Primary Technique, Elverton Books, London

Nieper, Hans A., Ph.D., 1985, Conversion of Gravity Field Energy/Revolution in Technology. Medicine and Society. M.I.T. Management Interessengemeinschaft fuer Tachyonen-Geld-Energy GmbH, Friedrlch-Rueder-Strasse 1, 2900 Oldenbuurg, Germany (available in German and English language versions)
Davson, Cyril W., 1955, pages 212-213

ibid, page 231

ibid, pages 217, 223

Taeufer, 1930, pages 30-32

Davson, 1955, page 230

ibid, page 226
191
Taeufer, 130, page 30

ibid, page 32

Davson, 1955, page 231

ibid, page 231

ibid, page 57

Taeufer, 1930, pages 38-40

Clark, Richard LeFors, Ph.D., 1987, page 64, "The Earth Grid, Human Levitation And Gravity Anomalies", contained in Anti-Gravity And The World Grid edited by David Hatcher Childress, Adventures Unlimited Press, Stelle, Illinois

ibid

ibid

Stevens, Henry, 2001, "Infinite Energy", pages 9-13, Volume 7, Issue 40

Davson, 1955, page 244

Bahn/Gehring, 1997, page 115

British Intelligence Objectives Sub-Committee Final Report Number 1043, item number 31, "The Invention Of Hans Coler, Relating To An Alleged New Source Of Power, Bryanston Sguare, London
Chapter Summary
There is ample evidence that the Schauberger saucer model flew. The fact that the Schaubergers were brought to the United States to continue the work leads to the assessment that they worked on something of value to the government of the United States. The U.S. government was neither interested in his water research nor was it interested in his work on agriculture. We are left to conclude that it was his work on a new form of levitation, his saucer work, which brought Viktor Schauberger and his son Walter Schauberger to the United States. After learning all they could, the government of the United States dismissed the Schaubergers rather badly, foreshadowing the treatment of the German rocket scientists two decades later.
Lionel Shapiro was a credible and incredibly well connected reporter of the war and post-war years. The fact that he was able to break stories relating to secret weaponry in Czechoslovakia indicates that he had some connections within the
U.S. military. With the war won, the years of 1946 and 1947 seen
192
to have been a period when the guard of censorship was relaxed. This noose would be re-tightened as the cold war got underway. No fault can be found with Mr. Shapiro's article or its content. The article on the KM-2 electromagnetic rocket and Mr. Shapiro's other stories appeared in a respect newspapers, not a tabloids. His post-war report of the KM-2 electromagnetic rocket must be taken on face value as legitimate.
The German eyewitness account of "Magnetscheibe" promptedinvestigation into U.S. governmental sources for corroboration. The CIOS report and the F.B.I. report provided corroboration. In the CIOS report we find a U.S. governmental admission of experiments in field propulsion for aircraft undertaken in wartime Germany by Dr. Erb. The F.B.I. report on a field propulsion German saucer must be taken seriously because the F.B.I took it seriously. The F.B.I. carefully took the report and investigated the veracity of their subject. The F.B.I. then sent copies of this report to other intelligence agencies within the U.S. government which is indicated on the F.B.I. report itself. The Bureau saved the report all these years. The fact that this report deals with German technology but was taken by a domestic law enforcement agency, one whose "spy" activities are geographically restricted to within the USA, is noteworthy. It may indicate that the F.B.I.'s Director, J. Edgar Hoover, was kept "in the dark" about the real nature of flying saucers and may have wanted to show the other intelligence agencies that he was not so easily cut out of the information loop.
If you do not believe this F.B.I. report does not constitute something special, ask yourself, if you had walked into an F.B.I. office and described a UFO sighting you had made over ten yearspreviously, what do you suppose the Bureau's reaction would be? Would you be taken seriously? Would your background be investigated and would your story be the subject of such extensive treatment? Would your report be kept for forty years? Or, on the other hand, would you be politely shown the door by a condescending uniformed security officer. Something in this report really struck a nerve at the F.B.I.
There is some suggestion that the Germans worked on a chemical engine which produced levitation. There is a possibility thatelectricity was produced by the Germans directly from atomic energy. There is some evidence, from both German and English language sources, that the Karl Schappeller device was being developed within Germany during the period of time in question. There is evidence that both the Schauberger and the Schappeller devices can be explained in terms of implosion and that implosion may have yielded the levitation force behind field propulsion vehicles. There is ample evidence that the Germans had access to the ideas of Nikola Tesla. The work of Tesla may be seen as an alternative method of propulsion or as a method of moving a field propulsion vehicle after it was made weightless by another method. There are wartime pictures along with many very similar
193
post-war pictures which indicate that the development of fieldpropulsion vehicles took place at this time.
Concerning these pictures and related reports of flying saucers one is thrust up against the intelligence services of the government of the United States of America who see fit to involve themselves. As we will see, it is the latter's rather clumsyattempt to suppress and discredit the flying saucer phenomena which actually speaks volumes for its existence.
The exact methods pertaining to the propulsion of these saucers may be plausible but they can only be taken as provisional at this time. There may be hundreds of ways to power a field propulsion saucer. The question is not "how could it have been done" but "how was it done".
194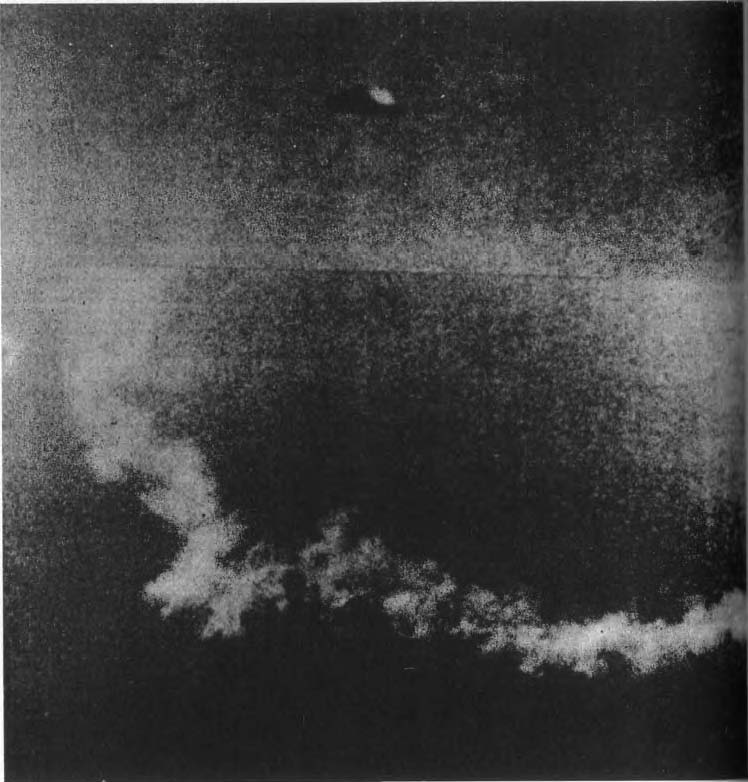 Above: One of a series of three photos taken by postman M. Muyldermans near Namur, Belgium, at about 7:30 PM on June 5, 1955. Project Blue Book showed little interest in these clear, daylight photos, despite the fame that they achieved.
Above: A cylindrical-appearing UFO photographed over Torrance, California in 1967. Possibly part of the southern California testing of US military modifications of German designs?
Above: A 1968 patent granted to H. W. Wallace for a "method and appartus for generating a secondary gravitational force field," exactly the kind of engine that the Germans were allegedly developing during WWII.
CHAPTER FIVE: